Today, Chellsie Memmel is retiring.... from gymnastics. She's not collecting Social Security since she is only 24 years old. It's more like moving on to the next phase of her life.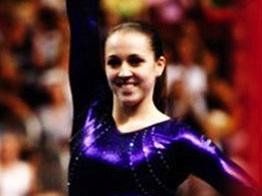 Chellsie officially confirmed her retirement via Twitter, announcing that after this weekend's final Kellogg's Tour of Champions.
Chellsie has been a national team member for the past ten years. That in and of itself is a feat. Gymnastics tends to be a sport for sixteen-year-old girls and very few continue past the age of 18 or so. Chellsie joins ranks with Shannon Miller, Dominique Dawes, Nastia Liukin and Alicia Sacramone as one of America's most decorated gymnasts.
She was a part of the 2003 World Championship team that brought home the gold medal. Chellsie wasn't originally supposed to compete, but several team-members were injured or sick so Chellsie was flown in at the last minute from the Pan American Games. In the team final, Chellsie was the only gymnast to compete on every event. Her hard work paid off when the team won the first ever team gold medal at a World Championships. She scored an individual gold medal on the uneven bars, tying with teammate Hollie Vise.
She was an alternate for the 2004 Athens Team, selected after petitioning to the Olympics Selection Camp due to missing nationals and the trials due to an injury.
Chellsie came out with all of her guns blazing and in 2005, she beat 2008 Olympic-All-Around Champ Nastia Liukin for the gold by one-thousandth of a point. Chellsie became the third american woman to score the World Championship All-Around gold medalist (Kim Zmeskal and Shannon Miller were the first two). She was unable to defend her title in 2006 in Aarhus due to a shoulder injury she sustained in the team competition.`
Being plagued with injuries has been an unfortunate reality for Chellsie. She managed to come back in full swing for the 2008 Nationals and Olympic trials, scoring her a place on the team. But in Beijing, she was only able to compete on the uneven bars after breaking her ankle.
In 2011, Chellsie re-injured her shoulder on the uneven bars at the Nationals and wound up having two surgeries to correct the injury.
At the 2012 Secret Classic in Chicago, Chellsie tried to make her come back to the national team, but after falling off the beam twice, her petition was denied. Following the event, there was backlash from fans, upset that Chellsie was not allowed to go further and her career would not end on her own terms. Fans (including yours truly), petitioned USA Gymnastics to allow Chellsie to advance to Nationals, but the petition fizzled out. After the Olympics, she joined her teammates on the Kelloggs Gymnastics Tour of Champions, giving Chellsie a chance to end her career on her own terms.
"That was hard. That was really hard," Memmel said. "It wasn't necessarily the way I wanted to finish competing. But being able to be a part of the (post-Olympic) tour has helped with that. Just perform and have fun with it. Everything happens for a reason. It's just another thing I've had to go through." Huffington Post Chellsie Memmel Retires: 3-Time Gymnastics World Champion Announces Retirement
This summer, Chellsie became engaged to Kory Maier and they are getting married August 31, 2013. She also said she plans to continue the process of being a gymnastics judge and help coach at her parents' gym ad potentially go back to school.
Good luck to you, Chellsie. You are in inspiration to us all.
Well, that's all for now kids, but I am going to leave you with one final thought: