Hollywood has the Barrymores, the Arquettes and the Estevez/Sheens. Music has the Jacksons, the Judds and the Dylans. Reality TV has the Kardashians. Gymnastics has the Liukins, the Caquattos, Moceanus, the Kupets, the Memmels, the Komovas and the Mustafinas.
The sport of gymnastics is full of legendary families with gymnastics stars. In this niche, the family business involves winning gold medals and thankfully, not making sex tapes, drinking tiger blood or going to rehab.
The Liukin Family
First up we have the Liukin family. Anastasia "Nastia", Valeri and Anna. 2008 Olympic All Around Champion Nastia is the progeny of Valeri, a gold medal winning former Olympian and Anna, a former rhythmic gymnastics world champion. They married in 1987 and two years later, they had a daughter, Anastasia, or as she's better known, "Nastia" in 1989. When her parents opened up World Olympic Gymnastics Academy (WOGA) when they moved to Texas, Nastia followed in her parents footsteps, despite their best efforts to discourage her. After, nearly whacking another coach in the face (or the opposite, I can't remember), Valeri took over her training and the rest is history. Valeri used to to dominate the high bar on the world stage, but these days, he is usually seen with a stoic look on his face as he coaches his many gymnastics proteges.
Mackenzie and Bridgette Caquatto of Naperville, Illinois are both former elite gymnastics. Mackenzie, 21 who is two years older than Bridgette, aka "Bridgey", 19. Little sisters always look up to their big sisters and Bridgey and Mackenzie are no exception. Whatever Mackenzie does, her sister follows. Mackenzie became and elite gymnast and a member of the 2010 silver medal winning team at the World Championship. Bridgey became an elite gymnast and was a member of the gold medal winning 2011 Pan American Games team. Mackenzie signed up to compete for the University of Florida's Gators' gymnastics team. Bridgey followed. Both girls are strong on the uneven bars. Recently, the Florida Gators took home the National NCAA title. Bridgey does beat Mackenzie in on area, she's an inch taller!
The Mustafina Sisters
Like the Liukin family, the Mustafinas family tradition is bringing home Olympic medals. Farhat Mustafin brought home the bronze medal for Greco Roman wrestling at the 1976 Olympics in Montreal. His daughters, Aliya and younger sister Naliya are gymnasts. Naliya was a junior member of the Russian team. She turned 16 in 2012. She didn't make the team going to London, but she was there for her big sister. While Aliya shines on the uneven bars, Naliya is excellent on the balance beam. I'm not sure if Naliya continued with elite gymnastics or not as I haven't found anything else regarding her past 2012. Maybe the gymnastics world is not big enough for two Mustafinas.
The Moceanus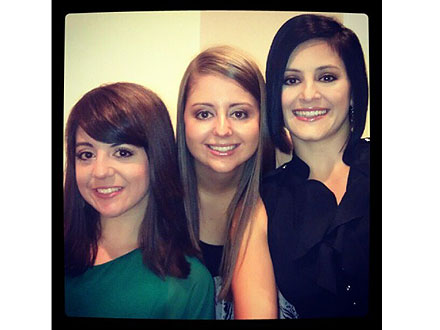 Source: People.com
Three beautiful girls with perfect smiles, dark hair, dark eyes and heart-shaped faces all sharing a passion for gymnastics. It's been told many times over the story of how spunky Dominique was introduced to gymnastics. Romanian immigrants, Camelia and Dumitru were both gymnasts in their native Romania. They had come to the United States to find their piece of the American dream. Their American dream rested with their baby daughter, Dominique. As a small baby, the new parents hung her from a clothesline and the little baby hung on for dear life. Domi grew up to be a household name because of her gymnastics. A national champion at the age of 13 and an Olympic champion with the Mag 7 at 14. Dominique even married another gymnast, Dr. Michael Canales, a surgeon she met at the age of 12 at the 1994 US National Championships when she won her junior national title. They reconnected again several times over the next decade and finally married in 2006. They are the parents of a daughter, Carmen and a son, Vincent, who are also involved in gymnastics. Dominique has said it's a great way for her to connect with her children. In 2007, Dominique and her sister Christina discovered they had a long lost sister, Jennifer Bricker whom their parents had given up for adoption as a baby. Jennifer, who the girls discovered had been born without legs, shared the family passion for gymnastics. Despite her disability, Jennifer excelled at a all sports including gymnastics. She was a junior Olympian for power tumbling. As a child, Jennifer idolized Dominique. Jennifer discovered that a clerical error on her adoption paperwork had allowed her adoptive parents to see the name of her birth parents, and they had put two and two together after seeing the Moceanu's on TV during a broadcast of the US National Championships. Jennifer as an adult is still involved in gymnastics. She is an acrobat and performed on Britney Spears' Circus tour. You can read all about it in Dominique's memoir,
Off Balance
. I guess the Moceanu's family motto is "family that tumbles together, stays together."
The Komovas
Vera Kolesnikova makes Kris Jenner look like a pageant mom. Vera was a former elite gymnast for the former Soviet Union. She was a member of the 1985 gold medal winning world championship team and an all-around gold medalist at the 1986 Goodwill Games. Vera retired from elite gymnastics in 1988 at the age of 20. Later, she found love in the form of fellow former gymnast, Alexander Komov. They married and they had two kids, a daughter, Viktoria, and a son, Aleksander aka Sasha. Little Viktoria took after both her parents and started gymnastics in 1999 at the age of four. Vera had been working as a coach and she couldn't find child care due to the hours she worked. Mom, Vera was little Vika's coach until she was seven. Even if Vera doesn't formally coach Vika anymore, she and her husband are Vika's biggest cheerleaders and supporters. At the London Olympics last summer, Vera had been spotted in the audience cheering Vika on.
The Memmel Family
Like her 2008 Olympic teammate, Nastia Liukin, Chellsie Memmel is coached by her father, Andy. Andy himself is a former NCAA gymnast for the University of Wisconsin - Madison. His wife, Jeanelle was also collegiate gymnast at Centenary College. Together, the Memmels opened up a gym, M&M Gymnastics, in New Berlin, Wisconsin. New bride, Chellsie started training with her dad after her stint as an alternate for the 2004 Athens Olympics team. Chellsie later went on to win the coveted all-around title at the 2005 World Championships in Melbourne, Australia. She later helped the US team to a silver medal finish at the 2008 Olympic Games in Beijing. Chellsie is the oldest of three daughters. Middle daughter, Mara is a coach at her parents gym and the baby of the family, Skylar is a gymnast in the Junior Olympic program, hoping to become an elite gymnast one day like her big sister, Chellsie.
The Kupets Sisters
Much like the Cacquatto sisters and the University of Florida, sisters Ashley and Courtney Kupets trained together with coach of Dominique Dawes and Elise Ray, Kelli Hill in Gaithersburg, Maryland. Courtney achieved success on the elite scene, winning a world championship title on the uneven bars and an Olympic silver medal in Athens for the event. Ashley went on to a successful gymnastics career at the University of Georgia and then later, ran away to join Cirque Du Solei in Las Vegas. When it came time for little sister Courtney to pick a school, she followed her big sister's footsteps and joined the Gym Dogs where she competed for them from 2005-2009.