Former Olympian and current team NCAA champion for the Florida Gators, Marissa King and her teammate, Ashanee Dickerson are going to be showing their skills next weekend in a "Pro Gymnastics Challenge."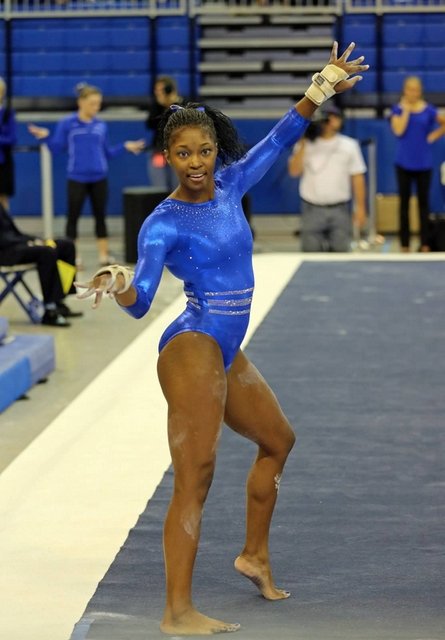 Ashanee and Marissa will be competing with 9 other gymnasts in a "skill on skill" challenge that will be held May 10 & 11th. Per Forbes.com, this is the first event of it's kind and if it is a success ratings-wise, it could parlay into future events and possibility city by city tours.
Forbes.com says the format of the competition is similar to the basketball game "HORSE". It will consist of two teams, the United States and the "World" each athlete will perform a routine and the opposing team will have to match the routine for it's difficulity and quality.
The Pro Gymnastics Challenge will be held in Bethlehem, PA. Some of the gymnasts competing include Russian Gymnast Anna Pavolva, Oksana Chusovitina who recently moved back to her home country, Uzebekistan from Germany and Jade Barbosa of Brazil. Representing the boys are Great Britain's Sam Oldham and Marcel Nyugen of Germany. ESPN will air this as a three part special, May 20, 21 and 22nd.
Marissa is a former elite gymnast who represented her native country, Great Britain at the 2008 Olympics in Beijing. She is a national champion on vault in Great Britain. She currently attends the University of Florida, in Gainsville, Florida, where she is a senior majoring in Geography with a minor in Mass Communications. Marissa is a strong presence on the Gators' women's gymnastics team and to close out her senior year of college, she helped the team win the NCAA National Championship title. Marissa will be competing as part of the "world team" at the Pro-Gymnastics challenge.
Ashanee is a Florida native and an 11 time all American on the vault. Ashanee, like Marissa is finishing her senior year at the University of Florida.