This week at the Canadian Championship, Victoria Moors unveiled her much speculated about secret weapon.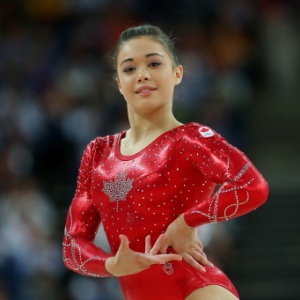 The street, and by street I mean the internet, has been all a twitter over this skill. I'm sure you might know what it is. There have been rumblings about on the street/internet and like a good strategic soldier, Victoria waits until just the right moment. That moment is at the Canadian Championships, Victoria showed the world her...wait for it...
Double twisting double layout.
She needs to work on the landing, but at least she lands up right and completes the skill. It's beautiful, really. I couldn't find that in the Code of Points. Maybe I wasn't looking hard enough. The closest I could find was a double layout with a full twist rated H for 0.8.