A weekend excursion to Portugal and Anastasia Grishina, Sam Mikulak, Larisa Iordache, Jade Barbosa went home with gold medals at the Anadia World Cup Event.
Not a bad weekend. Here are the highlights.
Anastasia took home a gold medal for uneven bars in grand Russian tradition. Just a warm up for the next three world championships. She's coming off of a successful European Championships where she took home two bronze medals.
Oksana Chusovitina took home a silver medal for vault competing for her native country of Uzebekistan. Jade Barbosa of Brazil took home the gold medal. Jade and Chuso were recently seen competing for team world on ESPN's Pro Gymnastics Challenge.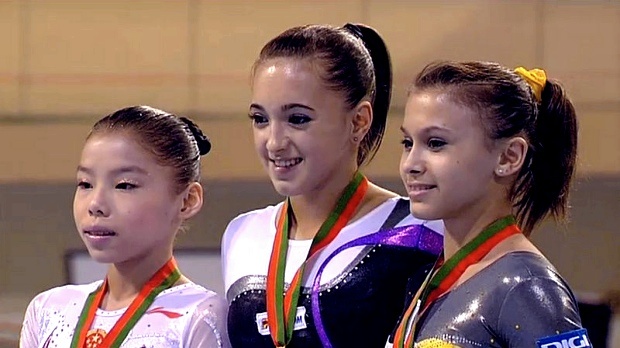 Larisa Iordache added more gold medals to her trophy case taking home a gold medal for the balance beam and tying with bestie and teammate, Diana Bulimar for the floor exercise. Diana also took home a bronze medal on the balance beam.
Sam Mikulak of USA took home a bronze on floor and a gold medal for the high bar. This is going to be a huge booster for Sam and the USA men's gymnastics team. With the USA Gymnastics Qualifier for the men coming up in a couple weeks in the Springs, this will be awesome. Maybe Sam should dust off a place on his mantle for a National Championship title?
For a full recap, visit:
Iordache Takes Two Titles at Anadia World Cup
Anadia Cup Finals, Day One Results
Mikulak Earns Gold, Bronze at Anadia World Challenge Cup