For over forty years, gymnastics has been a sport dominated by teenagers. At least on the women's side. Men's gymnastics seems to be dominated by men in their early to mid twenties. But there are veterans of the sport that defy all age barriers and statistics.
Previously, I featured a couple of gymnasts who were over the age of 30 (in light of my 30th birthday). I've always found it ironic that a man or woman in his/her prime is considered "ancient" by gymnastics standards. In honor of the prime time players, this blog will feature gymnast who defy age stereotypes.
Catalina Ponor, 25 Romania
Catalina, a two time Olympian, helped the Romanian team to an Olympic medal twice. In 2004, she helped Romania win the gold medal at the Athens Games. She herself picked up a gold medal for beam and floor respectively. She competed until 2007, picking up some World and European titles along the way. She came back on the scene in 2011 and made a debut at the World Championships. In 2012, she helped the Romanians score a gold medal for the team at the European Championships. Before calling it a day officially on elite gymnastics, Catalina competed with the Romanian team at the London Olympics, picking up a team bronze and a silver medal on floor exercise. Catalina recently competed for team World at the Pro-Gymnastics Challenge that recently aired on ESPN, showing off the beautiful beam skills that made her an Olympic champion. She's currently dating fellow gymnast, Tommy Ramos from Puerto Rico.
Sandra Izbasa, 22 Romania
Catalina's compatriot and teammate, Sandra is also a two time Olympian. She came onto the international Gymnastics scene in 2006. She scored a gold medal on the floor exercise at the 2006 European Championships and picked up a team silver and a bronze medal on the balance beam. At the World Championship later that year, she lead the Romanian Team to a team silver, and a bronze medal in the all around and a silver for the balance beam. At her first Olympics in Beijing, she helped the Romanians to a team bronze and she herself won her first Olympic Title on floor exercise. In London in 2012, she repeated her success with another team bronze and a gold medal for the vault, beating out favorite, American McKayla Maroney. Sandra is more than a pretty face and a world class athlete. She's also a member of the Romanian army and has recently taken a break from training to focus on getting a Bachelor's Degree.
Alicia Sacramone, 25, United States of America
At one time, Alicia was the veteran of the US team. Definitely the most mature in terms of age, she's served as the team captain at multiple world and Olympic championships. She first made the national team in 2003 at the age of 15. In 2004, she'd hoped to be able to qualify for the Olympic team to Athens, but a disappointing finish at Nationals did not qualify her to go to the trials. For the next quad, Alicia was determined to prove herself. She lead the US to a team silver in 2006 and a team gold in 2007. She picked up some additional titles on vault and floor exercise along the way. In 2008, Alicia made her Olympic dreams come true when she was named to the US team for Beijing. But Beijing did not work out as Alicia had hoped. Even though the US came home with a team silver. Alicia blamed herself for not helping the team to gold after a fall on the beam and an out of bounds on the floor exercise during the team final. During the vault final, she wound up in fourth place, even though she performed clean well executed vaults. Cheng Fei controversially took the bronze over Alicia even though she fell on her vault. Frustrated, Alicia took a year off competition and returned in 2010 a new woman. The 2010 World Championships were a success for Alicia, she helped her team score a silver in the team final and Alicia brought home her second world gold medal for the vault. In 2011, pumped in preparation for what she hoped would be another successful event, bad luck came Alicia's way when she tore her Achilles tendon while warming up on the floor exercise. The team scored a gold medal in the team final and Alicia was awarded the gold as a part of the team, but had to watch the US win gold from a hospital bed. In 2012, Alicia went to the US Olympic trials and performed clean routines on the vault and floor exercise, but she ultimately did not make the team and retired after that. She's currently dating former Denver Bronco's second string quarterback, Brady Quinn. She spent much of her recovery from her Achilles injury in Denver with Brady.
Ksenia Afanasyeva, 21 Russian Federation
Two time Olympian Ksenia served as Russia's team captain in London. She was previously a part of the Russian team in Beijing. She's a World and European Champion on the floor exercise. Ksenia is known for having gorgeous floor choreography that is unique and interesting. Her dedication to her teammates in London earned her the nickname "Mama Afan" among her fans.
Vanessa Ferrari, 22 Italy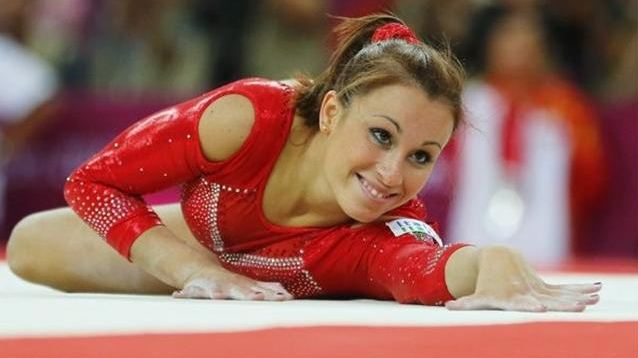 Vanessa is best known for being Italy's first All-Around world champion. She won the title back in 2006 at the age of 15. She's also known for her unique fashion sense with her leotards just as much as she is known for her gymnastics. At 22, still competing, Vanessa has pushed through injury and growth spurts and still remains dedicated to the sport of gymnastics. While most would have called it a day after winning a major title and suffering injury, Vanessa is still a widely recognized name in gymnastics and she keeps competing due to her love of the sport. In London, Vanessa was thisclose to scoring the bronze medal during the floor exercise event finals, but tie breaking procedures awarded Aliya Mustafina with the bronze. Fans around the world are rooting for her to get a medal in the Rio games in 2016.
Cheng Fei, 25 China
While most of the Chinese gymnasts are known for pretty lines on the balance beam and high flying uneven bar routines with perfect pirouettes, Cheng Fei was known for powerful vaulting and powerful tumbling on the floor exercise. At the age of 20, she helped lead the Chinese team to their first Olympic team gold medal in Beijing. She was just as much revered for her leadership and sportsmanship as she was for her gymnastics. Romania's Sandra Izbasa considers her a friend and Shawn Johnson has called her an inspiration. Much like USA's Alicia Sacramone, Cheng had been working towards making a bid towards the Chinese Olympic team when she ruptured her Achillies tendon.
Beth Tweddle, 28 Great Britain
Elizabeth "Beth" Tweddle is best known for her high flying uneven bars ability. She's a two time world champion and medalist on the event and an Olympic Bronze medalist. Watching Beth on the bars is enough to give a person whiplash with quick releases and high flying abilites. She's also a world champion on the floor exercise. Beth is also a member of the "Three Time Olympians" Club along with Dominique Dawes, Svetlana Khorkina, Svetlana Boguinskaya, Lisa Skinner, Oksana Chusovitina (6 times) and Danielle Hypolito.
Chellsie Memmel, 24 USA
Chellsie Memmel is the daughter of gymnastics coaches. Much like her 2008 teammate, Nastia Liukin, gymnastics was in her blood. Chellsie made her senior debut at 15 at the national championships. Later that year, she attended her first world championships as a senior when several teammates got sick and/ or injured. Chellsie was selected as an alternate for the 2004 Olympic Games in Athens. The next year, Chellsie became only the third American woman to win a World Championship all-around title. Chellsie was unable to make it a repeat event as she was dealing with a shoulder injury the next year. In 2008, after fighting for what she wanted, Chellsie was named to the 2008 Olympic team going to Beijing. Unfortunately, due to an injury, she could only contribute to the team on the uneven bars. Chellsie officially retired in 2012 after a failed bid to make the London team after a poor showing at the US Classic in May. Fans protested and petitioned USA Gymnastics to let Chellsie move to the national championships, but their minds were already made up and so was Chellsie's. She officially retired. Despite her flaming out before London, fans still admire her tenacity and pure grit. Chellsie recently competed for Team USA at the Pro-Gym Challenge, which recently aired on ESPN.
Daiane Dos Santos, 30 Brazil
Daiane is Brazil's floor exercise specialist. A powerful tumbler, she has two skills named for her in the Code of Points. A piked double Arabian salto and a laid out double Arabian salto. At the age of 20, she won her first world championship title on the floor exercise in 2003 in Anaheim.