This edition of Juniors to watch is featuring latest junior national team member, Laurie Hernandez.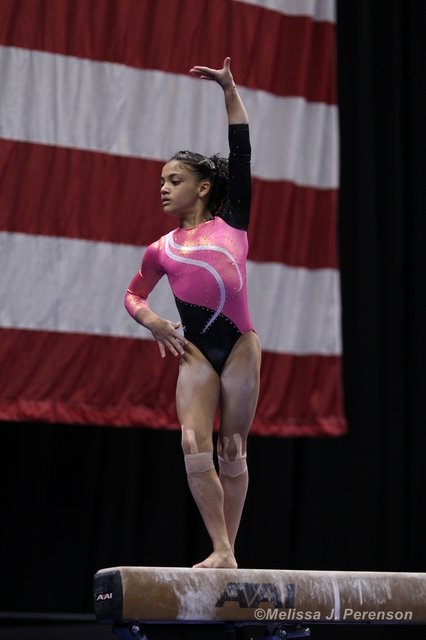 Laurie Hernandez
Date of Birth:
June 9, 2000
Age: 13
Residence: Old Bridge, New Jersey
Club: Monmouth Gymnastics Academy
Coach: Maggie Haynes
Thirteen-year-old Laurie is a kid of the new millennium. Born in the year 2000, she'll turn 16 in just enough time to qualify for the Rio De Janeiro Olympic team in 2016.
Laurie recently qualified for the first time to the national team as a junior. She competed elite last year and qualified to compete at the National Championships but did not make it to the national team. This year after an excellent showing at the American Classic, Women's Team Coordinator, Marta Karolyi named Laurie to the team.
Gymnastike posted this video of Laurie talking about making the team. Laurie has such a bubbly and infectious personality it's easy to adore her. Apparently, her coach, Maggie Haynes, had known she would be named to the national team for a month and never told anyone. She talks about what it's like at the ranch (there is a lot of animals), who her closest friend on the team is (fellow Junior to Watch:
Polina Shchennikova)
.
Now, about her gymnastics, Laurie is killer on the uneven bars. Her release moves are so high, it's ridiculous. They're Gabby Douglas high. On floor exercise, she really shows her bouncy personality with her choreography. I'm watching this on mute and I'm dancing. What's awesome is she doesn't take the obligatory pause before her turn, she just does it! On the beam, she shows that sassy choreography which is so cute and she doesn't take a lot of really long pauses and she hits her connections beautifully. At the Parkettes Elite Qualifier earlier this summer, Laurie is shown doing what looks like a double twisting Yurchenko. Which, she sticks and she executes beautifully.
Laurie will definitely be one to watch at the upcoming Classics and Nationals as well as keeping an eye on as a future Olympic hopeful.