So the ladies of the Fierce Five were nominated for an ESPY award last week, but unfortunately they did not win.
They did win in the fashion department.
The girls look amazing, Kyla and Gabby are wearing fierce black minis and Jordyn Wieber looks stunning in a simple purple dress. McKayla came out looking like she belonged at the Oscars, wearing a draped gold gown with an Angelina Jolie-esq slit up the leg. For the Maroney family, this was a family affair as she took her little brother Kav as her date. Kav can be seen in McKayla's many Keek videos online.
McKayla and Kav Maroney
Gabby (love her hair)
Kyla
Jordyn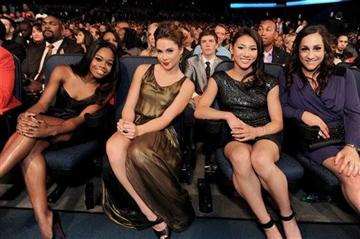 Group Pic (minus Aly)