The juniors are taking over the world one back-handspring layout step out at a time and Bailie Key is their leader.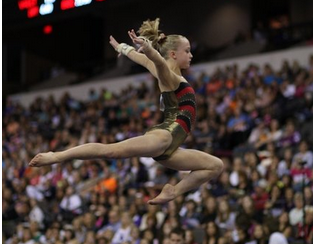 Bailie won the all-around title with a total of 118.55 after a stellar performance on the balance beam. Bailie, who trains at Texas Dreams under 1991 World Champion, Kim Zmeskal, also won the junior division of the Secret Classic a couple weeks earlier.
Bailie won that competition while dealing with a nasty bout of the stomach flu. Today, a healthy Bailie had the top score on balance beam with a 15.55 with nearly flawless execution, only a small balance check on a back handspring step out to layout step out series and ending with a perfect stuck triple twist and floor exercise with a 14.950.
Laurie Hernandez wowed the audience with her attitude and took second with a two day total of 116.65. Laurie stole the show with her attitude, dancing like Shakira on the floor exercise, a routine that was choreographed by her coach, Maggie Haney. She opened with a double arabian to stag jump for her first tumbling pass and nailed it. She closed with a double back pike and scored a 14.8, giving her a silver medal on the floor exercise.
Amelia Hundley clawed her way back up in the standings from a disappointing first night rife with errors. Amelia started out on bars and hit with a 14. Her next event was the balance beam where on night one, she had several uncharacteristic falls. Amelia, determined not to let that happen again, nailed it. Starting off with a huge full twisting back and sticking her 2 1/2 twist dismount. She finished the night with a combined total of 113.75.
Nia Dennis did a textbook perfect standing arabian on beam, landing with perfect posture and poise. Nia is a power gymnast along the lines of Shawn Johnson, Jordyn Wieber and Aly Raisman. She showed super powerful tumbling on the floor exercise and great tumbling on the balance beam, but struggled with the uneven bars.
Another show stopper was former Olympic team member, Brandy Johnson's daughter, Sydney Johnson-Scharpf. Sydney was a standout performer at the Nastia Liukin Cup. She stands out because of her exquisite artistry. She has what Simon Cowell calls the "X Factor" (he has a whole show about it). On floor exercise, she commands the attention of the judges, the audience and everyone else. When the code of points talks about artistry and what constitutes artistry, this is what it is talking about. When she performs, she uses her whole body, even her eyes. It's hard to describe, it is something that you just have to see.
Another disciple of Senor Chow, the man behind Shawn and Gabby, Norah Flately made the national team for the first time. She showed beautiful lines on the uneven bars, with beautiful handstands and a beautiful high jaeger. She dismounted with a perfectly straight double layout. On the balance beam, she fell off of the beam on her back handspring layout series. She still managed to score a 14.6 and took the silver behind Bailie because of her superior difficulty.
Polina Shchennikova showed her beautiful flexibility and long lines. After falling on the balance beam at the secret classic and having a fairly large form bream on night one, Polina fought and had a solid performance with a few small bobbles, but landed her 1 1/2 twist dismount. On floor she exhibited her old school balletic soviet style, but stepped out of bounds on her first two passes, but stuck her double back tuck dismount. She took third on the uneven bars with the highest difficulty value of all the competitors.
The 2013-2014 US Women's Junior National Team:
Bailie Key
Laurie Hernandez
Amelia Hundley
Nia Dennis
Veronica "Nica" Hults
Norah Flately
Alyssa Baumann
Polina Shchennikova