Tonight is the first night of the men's competition at the P&G National Championships. The men's field is ripe with hopeful young men vying for the national team.
The returning favorites include Danell Leyva, the 2012 All-Around Bronze medalist. Danell won the qualifier event in the Springs back in July. He didn't really need to, but it's always good to know that you rock. With Danell comes his dad/coach/personal cheerleader, Yin Alvarez.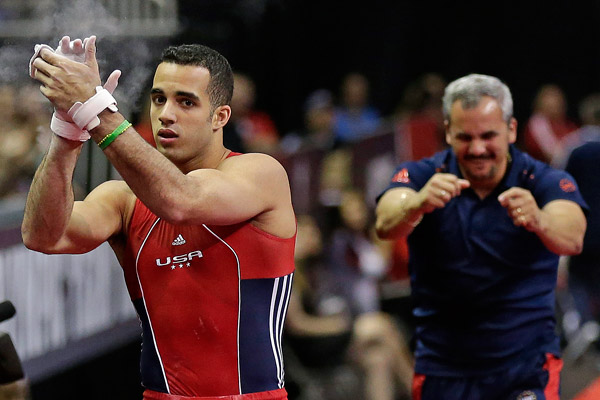 Last year, before the Olympics, I posted a wonderful wish-list of things that I wanted to see. That list included (and still includes) Yin going Toddlers and Tiaras/Dance Moms/Pageant Mom on some judge's ass. I am still waiting for it to happen. Of course, if Danell hits his routines and he just decides to do a herky on the sidelines, that too would be entertaining, I'm just saying...
All of Danell's teammates from London (save for Jonathan Horton) will be there. Jake Dalton could be a good challenger for the all-around title. He's had a great year, he won the American Cup. He got engaged to his longtime love, Kayla Nowak of Oklahoma (and if you listen closely, you can hear the sounds of women young and old crying).
John Orzco is still recovering from his ACL tear, but he's been competing, at least on the events that do not require pounding on the legs and knees.
People to Watch: Michigan's Stacey Ervin, 2012 Alternate, Steven Legendre, super PGC hottie, Paul Ruggeri Yum!