The P&G National Championships are less than a week away, the athletes are putting their final polishes on their routines in hopes of making that national team.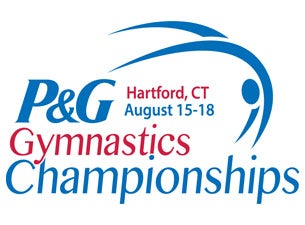 Since nationals performances will weigh heavily on who will be selected to go to Belgium for the World Championships in September, let's look at that athletes and what can be expected of them for a worlds team. Keep in mind, since this is the year
after
the Olympics, this is an individual all-around and event finals only meet, only four girls will be selected to go.
The returning Fierce Two, McKayla Maroney and Kyla Ross. They are the only two members of the gold medal winning fierce five to return to competition. Kyla has been traveling on the international scene to various competitions and is now a certified veteran instead of the baby of the team.
Kyla was the youngest member of the Fierce Five at fifteen going on sixteen. Kyla is a favorite for the all-around title, and she already won the title at the Classics a couple of weeks ago. Her difficulty isn't as high as some of the other competitors, but where she gains an advantage is execution. On vault, she only throws a double twisting yurchenko, which is only worth a 5.8, so the max score she can get is 15.8. At Classics, she scored as much or more as some of the girls throwing those Amanars. Kyla had the highest score on bars which will be an asset to her should she make the team for Worlds.
McKayla only did vault and floor exercise at the Classic. Training videos from the Ranch showed her upgrading her skills on the uneven bars and balance beam. She'd definitely be a part of a World team because she is the world champion on vault. She won the vault title at the Classic and it stands to reason she'll win at Nationals. It's rumored that she is training a triple twisting Yurchenko along with Simone Biles. Will she do it? Or will she stick with her tried and true Amanar and Mustafina vaults *.
We haven't seen Elizabeth Price in competition very much this year. She was slated to compete at the American Cup, but she was injured and she withdrew from the meet. For the Classics, word was she was only going to compete two events. She was looking good in videos from training camp. Ebee could be a contender for the all-around national championship title and she has an excellent shot at being named to the world team.
Simone Biles was suffering from allergies at the Classics and only competed three events. She had issues on bars and fell off the beam and on the floor and just gave up doing vault at that point. Simone already qualified to the National Championships before this event, so vault wasn't a necessity.A healthy Simone is a force to be reckoned with. Like McKayla Maroney, she's a very strong vaulter and has been training the triple twisting Yurchkeno. There is no word at this point whether it is competition ready or not. She is very strong on the floor exercise and she should dominate. Where she lacks is the uneven bars, but Simone still has nice swing and amplitude on her releases even if she doesn't have a lot of difficulty. She definitely has a good shot at making the world team and could easily be a shoo-in for the all-round.
Then there is Miss USA Laid Out Double Double MyKayla Skinner. She competed the double double layout, during her floor exercise which has made it's way around the Gymtertnet. Overall, she's very talented and she's a strong gymnast. Where she needs to improve is her execution. She is a strong tumbler, that's for sure, but she needs to rein that power in during nationals. She fell on the bars and she had quite a few wobbles on the beam at the Classic. On the floor, MyKayla went out of bounds on her double double layout and had some other major errors. Of course, most of her errors could really be attributed to nerves and will hopefully improve at Nationals. So where does she fit in? It's tough to say. She could potentially do well in a vault final. MyKayla could also fit in on the floor event finals, where she'd have a shot at having that double double layout named for her, the's if Victoria Moors doesn't perform it as well, then it will just be that, the double double layout (that's a mouthful).
Of course, there is Lexie Priessman, who is a first year senior. She was a junior national champion and her coach, Mary Lee Tracey harps on execution like nobody's business. She did not compete in the all-around at the Classic, but it stands to reason that Lexie will more than likely compete in the all-around at Nationals. Her floor routine definitely stood out with that artistry and power tumbling, she's what the new code of points wishes it was. She is a strong all-around based on her past competition results and she does have international experience at the Jesolo Cup in Italy, so she could easily be put on the worlds team.
There is also Katelyn Ohashi who has enormous scoring potential in the all-around and on bars and beam. But there hasn't been much of her since the American Cup. Back in April, she underwent surgery for a shoulder injury. But there hasn't been any word on whether or not she'll be back for Nationals or Worlds. She wasn't on the list of nationals qualifiers posted just a couple of weeks ago. It stands to reason that she could still be recovering.