Larisa Iordache proved herself the queen of the Romanian Gymnastics team, not only winning the all around, but taking home gold medals on the balance beam and big shocker here, the uneven bars, her weakest event.
This was Larisa's first meet back since missing six weeks due to an injury, but she's rested up and she's as dominant a force as she ever was on the Romanian team. She's expected to be an all-around contender at the World Championships later this month and she's a strong contender for a balance beam gold.
The ever fabulous Sandra Izbasa won first place on the floor exercise and looks like she learned how to work it this week, maybe she's just feeling "good" with her new routine? (Sorry, couldn't help myself).
In China, at the National Games, the big winner was Shang Chunsong, who's been making a name for herself in the international circuit, she won the gold on the uneven bars and floor exercise as well as an all-around gold. She was supposedly having issues on this event this week, but she pulled it together, and she looks beautiful. She does a super high piked Hindorff and she does an awesome in bar Gienger. Chunsong has so many release connections it's s a wonder she ever is on the bar at all.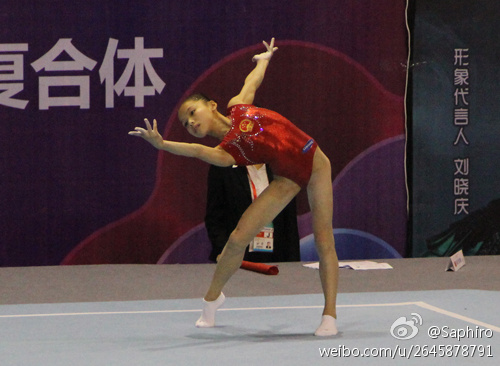 Chunsong is also looking very confident on the floor exercise. She's performed to the theme from Bonanza and at earlier competitions this year, has looked a little timid in her dance and tumbling.
For full results visit the
Couch Gymnast.com