The second day of the Japan Junior International became "Let's Just Give Bailie Key All the Golds." She literally won gold on every single event.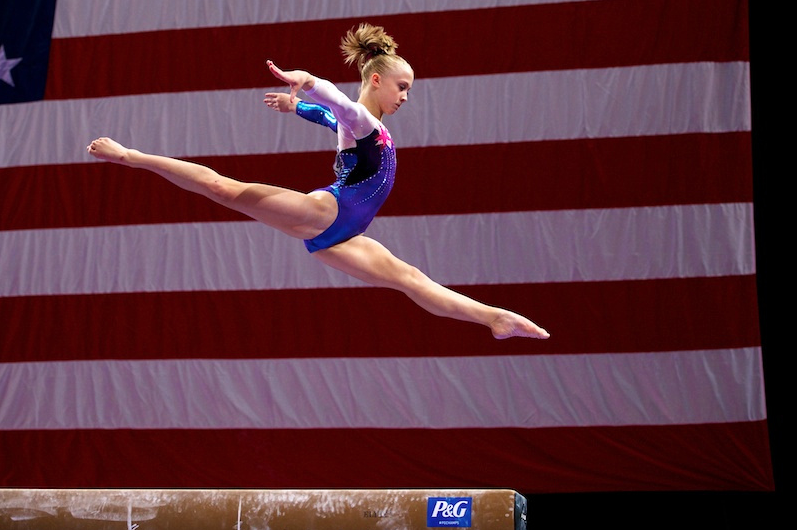 I'm just warming up! I am going to kill them all in Rio!
Clearly on a high from the all-around where she killed the competition, she not only killed them, but she buried them all today. She's doing her prep for 2015 when she finally turns senior and just decides to bury all the competition at worlds that year.
Laurie Hernandez scored another bronze medal on the vault with a double twisting yurchenko. Elsewhere, Romania's Andreea Iridon broke the stereotype of the terrible Romanian bar worker by taking home a silver behind Bailie with a 14.25 to Bailie's 14.35.
Here are the full results per the
Couch Gymnast
:
1 Bailie Key
2 Yan Wang
3 Lauren Hernandez
4 Kim Janas
5 Sae Miyakawa
tie with Maria Kharenkova
7 Aleeza Yu
8 Aiko Sugihara
1 Bailie Key – 14.35 (5.5)
2 Andreea Iridon – 14.25 (5.7)
3 Maria Bondareva – 13.85 (5.5)
4 Maria Kharenkova – 13.525 (5.5)
5 Yan Wang - 13.425 (5.3)
6 Catherine Lyons – 13.25 ()
7 Georgia Mae Fenton – 13.025 (4.8)
8 Pauline Tratz – 11.6 (5.3 )
1 Bailie Key - 14.625 (6.0)
2 Andreea Munteanu – 14.45 (6.0)
3 Yan Wang – 14.275 (6.4)
4 Maria Kharenkova – 14.1 (6.3)
tie with Catherine Lyons – 14.1 (5.5)
6 Lauren Hernandez – 13.475 (5.9)
7 Minami Honda – 13.325 (5.4)
8 Aleeza Yu – 13.025 (5.6)
1 Bailie Key – 14.8 (6.1)
2 Andrea Munteanu – 14.375 (5.7)
3 Sae Miyakawa – 14.35 (5.7)
4 Lauren Hernandez – 13.725 (5.8)
5 Kim Janas – 13.675 (5.6)
6 Aiko Sugihara – 13.375 (5.4)
7 Catherine Lyons – 13.325 (5.1)
8 Aleeza Yu – 12.85 (5.4)