Okay, I'm back with a new junior to watch after taking a break to focus on Worlds. This junior to be watched is Norah Flatley of Chow's.
Age: 13
Date of Birth: March 10, 2000
Club: Chow's Gymnastics and Dance
Residence: Cummings, Iowa, United States
Norah Flatley is the perfect age for Rio. Born in the year 2000, she will be 16 in 2016, the year of the Rio olympics.
Norah was recently featured on the Gymnastike series "Beyond the Routine" where Chow's gym was featured. The eight grader was born in sunny San Diego, California but lived in Wisconsin before she moved to Iowa with her family to train with the legendary Liang Chow, who took Shawn Johnson and Gabby Douglas and molded them into Olympic champions. Before her elite debut, Norah had been quietly making waves as a level 10 in the Junior Olympic program, winning two national titles on balance beam in 2010 & 2011.
She made her elite debut at the Parkette's qualifier in June of this year, where she took first place on the balance beam and uneven bars and second in the all-around. In July, Norah won the first place prize on the balance beam yet again. In August, she solidified her place on the USA Gymnastics scene by earning a spot on the junior national team and a silver medal on the balance beam. Shawn Johnson recently gushed about Norah in an interview with
Elle.com
.
"She is the cutest, most amazing little athlete I have ever seen. She is like my little sister. If she is there (Rio 2016), I am going to be crying the entire time."
Norah's best event is, obviously, the balance beam where she has been working on a five element series. She demonstrates beautiful artistry with a connection of two turns, beautiful in it's simple elegance, lovely work on the low beam and a beautiful scale as seen below.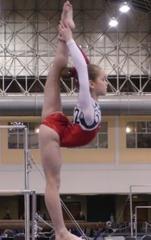 She's consistent and clean on the other events even if they're not super difficult yet. Her uneven bars dismount a double layout is text book perfect and her floor routine has a little bit of sass with a spanish flair.
We should see good things from this kid in the next several years.
Her start value on beam is a ridiculous 6.6!