It's that particular Thursday in November where we Americans stuff ourselves full of turkey and gravy and give thanks. Hence, Thanksgiving.
Today, I would like to express my gratitude for everything that has made me happy this year in the world of gymnastics.
Aliya Mustafina
Call me a stan or whatever, but I love that girl. I love her grit and determination as well as her gymnastics. Yes, she's a world champion already and an Olympic gold medalist. No, she doesn't have anything left to prove. Who said she wants to prove something to someone else? She's clearly a very smart girl and could go and become an engineer or something. Aliya always manages to surprise me and surpass my expectations of her. Seriously, who expected her to win the gold medal on beam at the World Championships? I threw it out there on Twitter one day and lo and behold, she does it. I'm already turning predictions in my head for next year to see if she fulfills them.
Tatiana Nabieva
Like a fine wine, somethings just get better with age. Tatiana Nabieva is one of them. Tatiana helped Russia win a gold medal at the University Games in July and brought home a silver medal on the uneven bars. Later, she won the all-around title at the Russian Cup and was subsequently named to the World Championship team in Antwerp. Despite getting a nice shiner on her forehead and possibly getting a head injury, Tatiana competed anyway. She didn't make it past qualifications. But next year, I expect a ready and raring to go and win everything. She's one tough chick, the type of girl you want to have your back in a fight.
Laurie Hernandez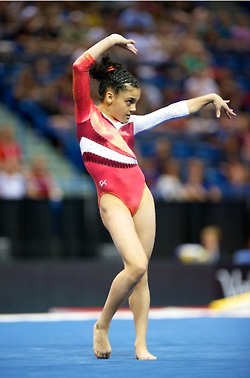 Oh little Laurie. How adorable you are with your smile that warms my heart and your floor routine that is wonderfully artistic and expressive. There's no standing in the corner like a flamingo in her routine or arm waving. My only wish is to keep seeing Laurie for years to come.
Sam Mikulak Dancing
As if Sam wasn't adorable enough with his cute smile and his chill surfer boy attitude. USA Gymnastics brought the Sam dance cam at Worlds and it made me so happy. I'm just going to say that maybe the University of Michigan can just have Sam Dance Cams on him all the time. Or maybe, he can go on Dancing with the Stars and he can perform shirtless. I'd certainly appreciate that.
Simone Biles
I could list the obvious reasons why I'm thankful for Simone. World Champion, National Champion wonderful gymnastics. What I'm most thankful for is Simone's refreshing attitude and adorable personality. At Worlds, she hugged everybody and she always had a huge smile on her face. She hugged Kyla, she hugged the coaches and all her competitors. Even her competition couldn't help but be touched by her friendliness, as evidenced by her Twitter-love fest with Larisa Iordache. Aside from her attitude, her accomplishments this year are incredible. She was the first woman since Shannon Miller to qualify for all four event finals. She even qualified on her weakest event, the uneven bars. Hugs all around!
Kyla Ross
Kyla has really blossomed this year. She grew a few inches and now has even longer, lovelier lines. She's improved her artistry on the floor exercise. Kyla worked to improve her artistry on the floor exercise and it really showed. Kyla knows what her strengths are and she uses that to her advantage. Her gymnastics is clean and beautiful, her beam connections are beautiful and she floats on the uneven bars much like Svetlana Khorkina (also a tall gymnast and beautiful bar worker!). Her Longienes Elegance Prize (and congratulatory kiss on the cheek from Philip Boy) was well deserved.
Larisa Iordache
Larisa Iordache has really impressed me all year long. Not just when she wins, but when she falters. When she fell during the event finals in Antwerp on beam, she picked herself up and went to the floor final where she won a bronze medal. She'd been dealing with injuries and had been competing all year long winning medals at Euros, World Cup Events. After Worlds, she went on to win the Arthur Gander Memorial Cup, the Swiss Cup and the all-around and beam titles at Elite Massilia. The girl is on fire. She's been called the next (next, next, next) Nadia. Larisa has the spirit of a young Nadia, a kid hungry with passion and determination.
Ice-T's interview with Jimmy Fallon
I love anything that puts gymnastics on the map. Gymnastics has the reputation of being a girly sport, but Ice-T was so proud of his gymnastics past. He admitted he started because the girls liked it, but his love of the sport was so great. He talked about the amazing athletic skills of the men's olympic team. Ice-T is a veteran, a musician and now an actor. One could say that gymnastics brought him the discipline he needed to excel in his future life endeavors.
The Gymternet
Obviously, I would't be blogging about gymnastics if the gymternet didn't exist. Gymnastics isn't a sport that is as popular as American football or the original European Football (which most Texans think is a commie plot). The access to blogs and videos of past competitions is just glorious. I can relive my childhood and it has allowed me to rediscover my love for the sport as an adult.
The Veterans
Gymnastics is a sport that is really dominated by teenagers (at least on the women's side). However to quote Bob Dylan, the times, they are-a changing. No longer do we have just sixteen and seventeen year old gymnasts. There are gymnasts in their thirties, ala Oksana Chusovitina who has been competing in the sport for over twenty years. The 2012 London Olympics were her sixth olympic games. She's credited the sport for keeping her young and making her feel young. While most people would feel old competing with athletes half their age, Chuso said they make her feel young. Let's also give thanks to the women who are still continuing through their twenties.
Vasiliki Millousi of Greece, who is 29 years old, an absolutely beautiful gymnast. Her gymnastics has an aura of confidence that is of a woman. She may not win a world medal (although a girl can dream), but she's so pleasant to watch.
Of course, there is Vanessa Ferrari. World Champion in 2006. She already has a world championship title, countless world titles. She could have retired long ago. She still remains competing in the sport out of love. This year, she won the silver medal on the floor exercise. Not bad for a 23-year-old who already has multiple accomplishments.
Good Sportsmanship
While perusing screenshots, I found this screen shot I took of Russian Head Coach Evgeny Grebenkin congratulating Simone Biles on her world championship win.
I wanted to share this for a couple of reasons, the first is obviously as an example of good sportsmanship. The second reason I'm sharing this is because of the press and the comments that certain athletes and team coordinators who shall not be named said regarding Simone's all-around win. Simone had worked incredibly hard and trained the same long hours that everyone else on the competition floor had put in. Simone had a great day and she had four hit, solid routines. Evgeny's body language seems genuine, he shakes Simone's hand and gives her shoulder a congratulatory pat. As a coach, he knows how hard these athletes work and he's giving them the praise they all deserve instead of cutting someone down. So I am thankful for this display of kindness and sincerity.
A few more things:
Ruby Harrold's Bar Routine
Sanne Wevers' Beam
McKayla Maroney's Vault
And finally- Team USA leotards that are not hot pink.