For my first post Christmas blog, I'm featuring another outstanding young junior named Emily Gaskins.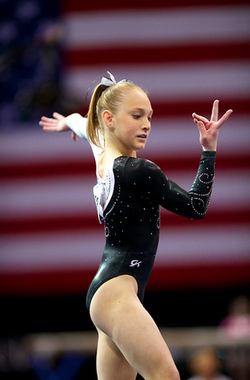 Hometown: Coral Springs, Florida
Club: Cincinnatti Gymnastics Academy
Coach: Mary Lee Tracy
Date of Birth: May 23, 2000
Current Age: 13
Emily is a junior who is one of several Mary Lee disciples on the USA Gymnastics scene.
Emily was a level ten earlier this year and then made a superhuman leap to elite in the span of a couple of months. Earlier this year, Emily competed at the Nastia Liukin Cup and then took second place in the all-around at the Junior Olympic (JO) Nationals. Adorable, blond, blue eyed Emily recently competed at the Mexican Open in Acapulco, Mexico with fellow junior national team members Bailie Key, Laurie Hernandez and Nica Hults.
Emily's gymnastics origin begins in ballet class. Emily is the youngest of three girls. Her two older sisters, Allison, 19 and Kayla, 21, studied ballet and Emily followed in her sisters' pointe shoes. However, young Emily was more interested in hanging off the barre and turning cartwheels. Emily's ballet training shows in her gymnastics, with her beautiful, balletic style that shows her lovely extension and execution.
Emily could be taking cues from a former coach, Courtney McCool, who is known for her beautiful technique and execution. (Courtney coached at CGA until just recently when she moved with her husband to coach at Texas Women's University) Even though Emily is only a seventh grader, she is looking toward the future at possibly competing for the University of Florida, where both sisters currently attend.
Watch more video of JO Nationals 2013 on gymnastike.org
For More Information:
USA Gymnastics: Emily Gaskins
10 Questions With Emily Gaskins
Spotlight Series...21 Questions with Emily Gaskins