Roxana Popa of Spain stole the show and the gold medal this weekend at the Mexican Open in Acapulco, Mexico.
She won the all-around with a total of 57.350, ahead of the previous day leader, Peyton Ernst of the USA who came home with a bronze medal. Maggie Nichols of USA, a first year senior like Peyton and Roxana walked away with the silver.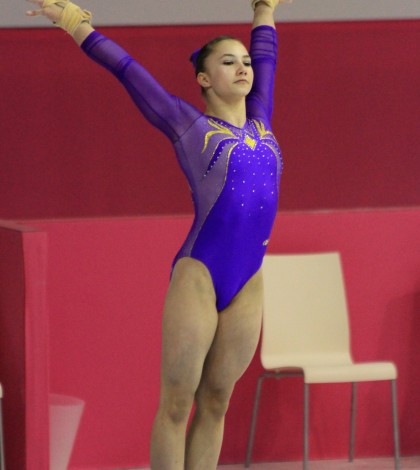 As for the juniors, well, it was the same story again: Bailie Key won the all-around title with a 56.9. But right on her tail is Laurie Hernandez, who took silver with 56.567. Hmmm, I smell a battle ensuing. Team USA also took home the team title.
The Routines:
Roxana stole my heart with this beam routine full of attitude and sass.
Then there is this this floor routine. Notice she mounts with a beautiful stuck double layout. Her second pass is even more impressive. Two whips to a full in. Gorgeous!
Maggie Nichols had an overall nice beam set. She had a wobble on her back handspring layout to two feet and a few more wobbles in the routine, but overall, very solid.
I enjoyed Maggie's floor routine. Her presence on the floor reminds me of a young Chellsie Memmel.