This video, from Sport Everywhere on YouTube, shows Ukrainian gymnast, Olessia Dudnik's 1989 world championship balance beam routine in today's code of points.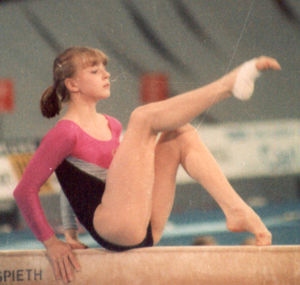 This routine has a difficulty score of 6.1 under the current FIG code of points
. Here's how she does it: she has several skills in her routine of a very high level difficulty, a laid out full, a G element, worth .7 and she dismounts with a triple twist, an F element worth .6. That's not really how she get's such a high start value. Olessia get's much of her start value from connections. She gains a total of .7 in connection bonus. She connects a forward aerial walkover to two layout step outs (D+C+C), worth .4 in connections and series bonus. D+C = .2, C+C = .1 + Series Bonus = .1. She connects her laid out full to a round-off, B+G = .2.
Olessia won the silver medal for this routine in 1989. At last year's world championships in Antwerp, the beam champion, Aliya Mustafina was awarded a difficulty value of 6.0. Silver medalist, Kyla Ross was awarded a difficulty value of 6.0 and Simone Biles, took home the bronze with a difficulty value of 6.1.