In a stroke of good fortune, Maddy Curley and Brooke Buffington have received the financial backing they need to create the "next great gymnastics movie"
Chalk It Up.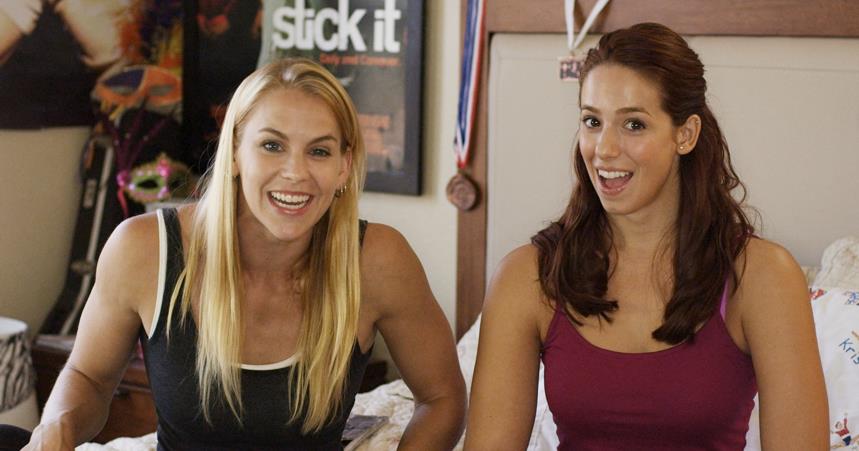 Maddy and Brooke, two former North Carolina State gymnasts have been working to develop the film, which was originally thought up to be a sequel to the 2005 film
Stick It.
Maddy, also a former elite gymnast, co-starred with Jeff Bridges and Missy Peregrym. The gymnastics version of Matt Damon and Ben Affleck set out to raise the funds and develop an interest via the internet earlier this year with a Kickstarter campaign to raise the money.
The Kickstarter campaign, which wrapped up in July of 2013, brought a lot of interest from the gymternet and the gymnastics community. Ultimately, the film did not get the funds needed through the campaign. In an update shortly before the conclusion, Maddy and Brooke had said they had been approached by a couple mystery investors or as they put it "angel investors" that were interested in helping the creators make the film.
This week, they announced they had finally received the financial investment for the movie.
The story of Chalk It Up will follow Hannah, a former elite gymnast who is now attending Harvard University and has since transitioned to cheerleading. She decides to get back into the world of competitive gymnastics, but instead of going back to elite, she decides to form a gymnastics team at Harvard with a ragtag group of athletes. Earlier this year, Shawn Johnson was reported to have signed on to the project as Courtney, a former elite artistic gymnast who has gone to rhythmic gymnastics, but is unfortunately a terrible rhythmic gymnast.
More updates regarding the film will be posted as they become available.
For more information visit:
The Next Great Gymnastics Movie Chalk It Up
Facebook: Chalk It Up Movie
Gymcastic Episode 36: Maddy Curley from Stick It and Brooke Buffington On Their New Gymnastics Movie!