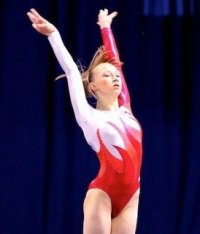 First year senior, Polina Shchennikova is showing off some beautiful upgrades on the beam.
In footage from last week's training camp, the Arvada gymnast is shown on the beam with several brand new connections. Not only has she upgraded, but Polina has channeled her inner Celine Dion beam diva and she is just looking so confident.
Polina is shown training a beautiful Onodi to sheep jump. Her Onodi is gorgeous, like Anna Pavlova/Catalina Ponor/Aliya Mustafina gorgeous, super extended and fluid. She's added a full twisting back handspring to layout step out to aerial cartwheel.