American gymnast, Elizabeth "Betty" Okino was a force on the USA Gymnastics scene in the early '90's.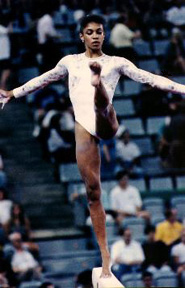 She was part of the 1992 Barcelona Olympic team that took home the bronze medal. Individually, Betty won the bronze medal on the balance beam at the 1991 World Championships in Indianapolis and a silver for the uneven bars at the 1992 Worlds in Paris.
Betty still has two skills named for her in the code of points, an uneven bars dismount and this triple turn on the beam. This is currently rated an E in the current code of points.
This particular shot is from the 1992 World Championships in Paris, I believe.
GIF via
icannotcountthosetwists