2012 all-around champion Gabby Douglas is rejoining the national team for the first time since London.
Today, USA Gymnastics released the roster for the June national team training camp that will commence Monday. Joining her will be the co-winner of this year's Nastia Liukin Cup, McKenna Kelley (aka Mary Lou Retton's daughter.)
Gabby reunited with coach Liang Chow two months ago. Women's Team Coordinator Marta Karolyi extended the invite to Gabby after hearing of her profess since returning to Chow's tutelage. Chow is pleased with Gabby's progress.
"It's a very tough, tough job, but I'm very pleased with the improvement we made in a short time. She's worked really hard every day," Chow told USA Today.
McKenna Kelley was the co-champion at the Nastia Liukin Cup in February. The sixteen-year-old has committed to Louisiana State University, which she'll attend after she graduates high school in 2015. She placed fifth at the junior olympic nationals in 2013.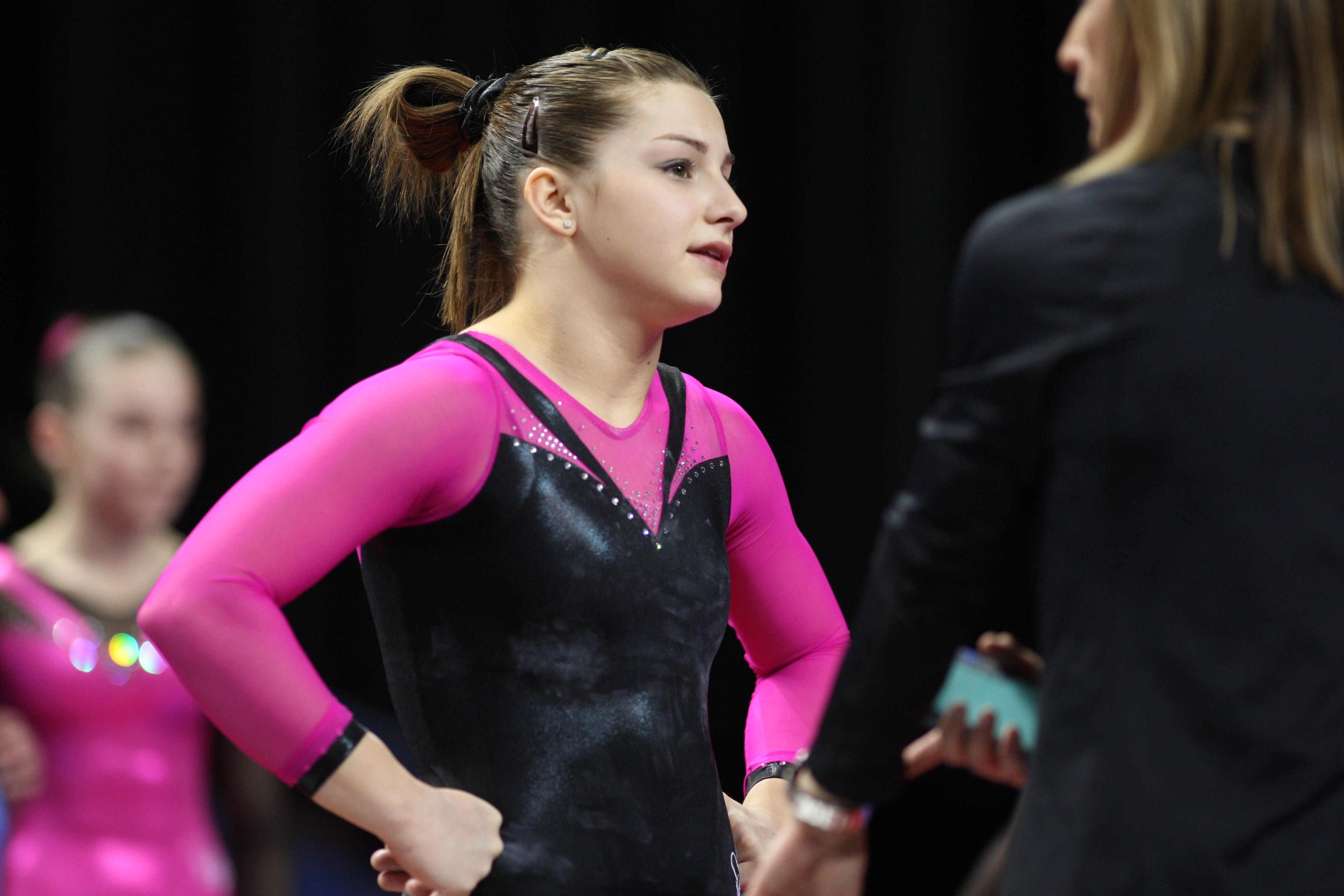 Gymnastically, McKenna's a lot like her mother. She's a powerful tumbler, throwing double layouts on floor, and dismounting with double backs off beam. On vault, she's only doing a yurchenko full, but I'm sure she's
capable of doing more since that vault looks like it's really easy for her.
Full list of June camp attendees, via usagym.org:
Ariana Agrapides, MG Elite
Simone Biles, World Champions
Jordan Chiles, Naydenov
Nia Dennis, Buckeye
Gabby Douglas, Chow's Gymnastics
Brenna Dowell, GAGE
Peyton Ernst, Texas Dreams
Norah Flatley, Chow's Gymnastics
Jazmyn Foberg, MG Elite
Margzetta Frazier, Parkettes
Emily Gaskins, Cincinnati
Rachel Gowey, Chow's Gymnastics
Felicia Hano, Gym-Max
Laurie Hernandez, MG Elite
Veronica Hults, Texas Dreams
Amelia Hundley, Cincinnati Gymnastics
McKenna Kelley, Stars Gymnastics
Bailie Key, Texas Dreams
Madison Kocian, WOGA
Victoria Nguyen, Chow's Gymnastics
Maggie Nichols, Twin City Twisters
Abby Paulson, Twin City Twisters
Kristen Politz, Rebound Gymnastics
Lexie Priessman, Cincinnati Gymnastics
Melissa Reinstadtler, Rebound Gymnastics
Kyla Ross, Gym-Max
Emily Schild, Everest Gymnastics
MyKayla Skinner, Desert Lights
Ragan Smith, Texas Dreams
Sydney Sneed, Sonshine Gymnastics
Deanne Soza, Arete
Olivia Trautman, Twin City Twisters