Like Simone Biles, Sam Mikulak successfully defended his national title this weekend at the P&G Championships.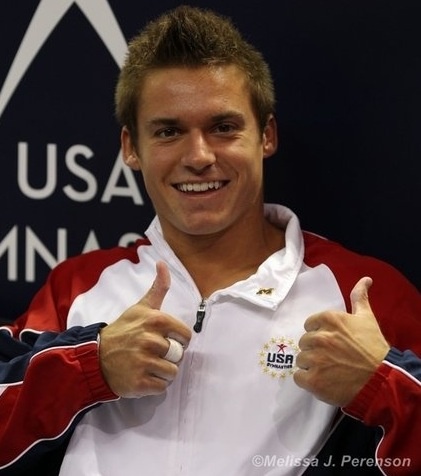 He started off at a weak advantage and had to pull a Kyla Ross and make a Herculean effort to claw his way back up to the top of the leaderboard. He made mistakes on night one, but on night two, easy going, charming Sam, charmed and oozed his way to the top. Sweet talking the pommel horse for a hit routine and air flaring his way through the competition.
It was between him and Jake Dalton and Jake put up a valiant effort, but in the end, it was the pommel horse that got him.
Jonathan Horton made a return after missing last year due to shoulder injuries. According to NBC, during his time off, he made an attempt to make the American Ninja Warrior finals, ala Kacy Catanzaro, a former NCAA gymnast, and failed short of his goal.
John Orozco placed second overall behind Sam. Last year's worlds clearly gave him a boost, because he looked more like 2012 John that won the national title for the first time and took one of only two guaranteed spots on the Olympic team.
A face to watch on the mens side is Donnell Whittenburg, who has the stature of Peyton Manning, and pulls out some incredible gymnastics. On vault, he performed a Dragulescu vault (double front half out, named for Romanian gymnast Marian Dragulescu) that was as high and far as McKayla Maroney's Amanar. For his second vault, he did a triple with a full out. SOOO incredible.
2014 World's Team - Men
Jacob Dalton
Danell Leyva
Sam Mikulak
Alex Naddour
John Orozco
Donnell Whittenburg
Replacement athlete (traveling): Paul Ruggeri III
2014 Pan American Championships Team - Men
Jonathan Horton
Marvin Kimble
CJ Maestas
Sean Melton
Eddie Penev
Brandon Wynn
Replacement athlete (traveling): Akash Modi