The Russian Gymnastics Federation has named a provisional team going to the World Championships in Nanning, China this October.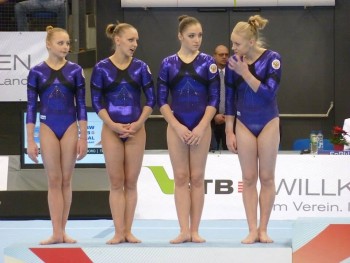 The announcement comes on the heels of the recent Russian Cup in Penza, which served as part of the qualification process for the Worlds team.
Per the Couch Gymnast News Page, and ITAR-ITASS, via Google Translate, the team is as follows:
Aliya Mustafina
Alla Sosnitskaya
Maria Kharenkova
Maria Paseka
Ekaterina Kramerenko
Daria Spiridonova
Notably being left off the team (for now, maybe, who knows) is Viktoria Komova who was coming back from an ankle injury that left her off of the European Championships team this past April. The word coming from Head Coach, Valentina Rodionenko is that she still may have a possibility,... Okay... She also names Tatiana Nabieva as a possibility, which is confusing, since she allegedly retired at the beginning of the year (make up your mind, woman!) and Anna Rodionova.
Sources:
http://itar-tass.com/sport/1411695