Two things to remember about the uneven bars.
1. The distance between the bars has gotten wider as the sport has changed.
2. The current distance between the bars with the current FIG (International Gymnastics Federation; Federation Internationale Gymnastique) standard measurements is between 130 cm to 180 cm (4'3" to 5'10"). Per Wikipedia.
Over the weekend, Olivia Vivian of Australia performed a bar routine featuring between the bar splits, at the Chetkovich Cup. She manages to do this by hooking her feet onto the high and low bars, and demonstrating her flexibility and her incredibly long legs (the Aussie redhead is 5'5" or 166 cm tall).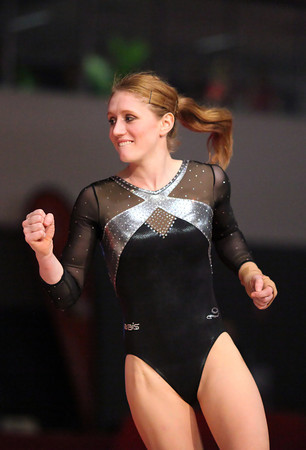 Olivia competed for Australia in the 2008 Olympic Games and she was also an NCAA athlete for the University of Oregon. She's recently revived her elite career and helped the Aussies win a silver medal at the Commonwealth Games and she and the Australian team placed seventh at the recent World Championships in Nanning, China.