I love a glorious beam worker.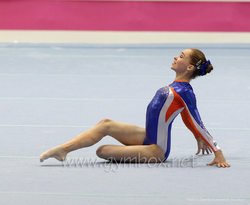 Mostly, I like seeing what gymnasts can do on a four inch (ten centimeter) wide piece of wood.
This is Icelandic born Dutch gymnast, Eythora Thorsdottir on the beam at a meet in Hamburg, Germany.
She's a favorite of the gymternet for her artistry. Personally, I am sick of the word "artistry" because it's so general and very non specific. Instead, I propose the word "virtuosity." Eythora's beam routine is the embodiment of virtuosity.
Eythora is what they call a master of the beam. This routine has skills low to the beam, high and side. It's just a thing of beauty. She starts off with a skill where she hooks her back over the back of the beam and then fluidly moves up into a chest stand. Her connections are so fluid, she moves from one element very easily and she really rarely breaks her rhythm and in fact, she has constructed her routine in such a way that if she makes a small error, it's easily covered up by careful choreography. My favorite part is at the 1:22 mark where she turns and does some side choreography and gives the judges some sass.