After a year of dealing with injuries, prominent US junior, Laurie Hernandez has had her rightful place reinstated on the junior national team.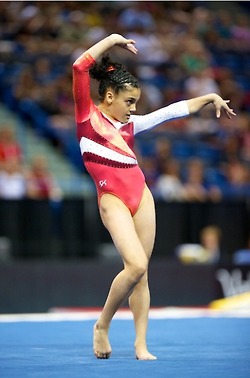 Laurie caught the eye of gym fans all over the world at the 2013 P&G Championships where she won silver behind Miss "I Win Everything All the Time" Bailie Key, gaining attention for her floor routine. Laurie stood out for her unique choreography, never giving away any artistry for the sake of difficult tumbling. She continued be 1-2 with Bailie for the rest of 2013, before having to sit out 2014 from injuries.
Speaking of Miss Bailie, at her first training camp as a senior, she managed to usurp the current world all-around champion, Miss Simone Biles for the camp all around title. 2015 is going to be a very interesting year.
Gymnastic posted Simone's ask.fm post on their Facebook page:
Want to see Laurie in action? Watch this video.