US junior national team member Emily Gaskins has gone from being coached by one legendary coach to another.
Full Twist broke the news that Emily is now being coached by none other than Steve Nunno, who coached Olympic Gold medalist and two time world all-around champion, Shannon Miller. Emily was previously being coached by famed coach Mary Lee Tracy at Cincinnati Gymnastics Academy (CGA) Mary Lee coached Shannon's teammates, Jaycee Phelps and Amanda Borden.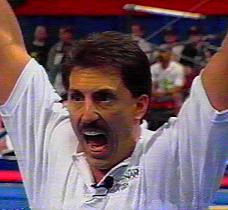 Steve is way excited to be coaching Emily
Emily has left CGA earlier in the year and went back to her home state of Florida. Full Twist confirms that Steve has been coaching Emily for a couple of months now at Palm Beach Gymnastics in West Palm Beach, Florida.
"Emily has been a joy to coach. She is hungry to learn and determined to be a great gymnast. She is a very hard worker."
Emily is due back to competition for next week's Secret Classic in Chicago, the final qualifying meet to the P&G Championships in August. Steve told Full Twist Emily has added a double Arabian to sissone on floor exercise and they are re-vamping her bars and beam routines.
This will be Emily's first competition in a year. For Steve Nunno, it will be the first time back on the USA gymnastics scene since the 2000 Olympic trials where Shannon Miller made an attempt to be named to a third Olympic team.
It will be an interesting shift to see Steve Nunno and a gymnast who is not Shannon. The two were indelibly linked in the cultural gymnastics zeitgeist.