Well, second day of event finals was no less extraordinary with more history making moments. Simone Biles broke a huge record, and the Team USA guys finally got their medals.
Before I break down in a fit of depression because worlds is over, let me recap the events of today. Warning - I've been at this for about 10 days straight now, so I may break into snark unexpectedly.
We start off with men's vault. One of the more exciting event from men's gymnastics. In this final, we had the returning world champion and Olympic medalist, Marian Dragulescu, the one man PR show for worlds.
Mr. Quad twist - Kenzo Shirai leads off. He attempts his Yurchenko triple but can only get it 2/3 of the way around and is downgraded to a Shewfelt (Amanar). His next vault is a Tsuk double full, and he can get that around. Guess he must have been dizzy from all that twisting the night before. Or maybe he partied too hard. Total of 14.516.
Donnell Whittenburg is next for the USA. By this point, I keep wanting the mens team to get a medal, but so far, they've come up short everytime. Donnell is a frickin powerhouse. His first vault is his Dragulescu, the cleanest I've seen him do it, small hop on the landing. (And thus begins the Dragulescu Tribute of this vault final) Second vault - a Rie Si Gwang, Tsuk tucked with a full out, another huge vault, gives him a total of 15.35
Denis Abliazyin, of Russia. Dude is built like a soviet tank. I'm not kidding when I say that.
Oh! And he's Mr. Ksenia Semonova, Afan's bestie. He put his Gwang vault and it knocked him out of the running.
Then Marian Dragulescu walks onto the podium. Okay, he's shown up. Give him a medal and we can all go home. Does his signature vault, is like, "This is how it's done, kids." Then does a round off half on 2 1/2 off and everyone in that competition bows down to him (Ok, that was hyperbole, but still.
Oleg Verniav of the Ukraine is up. He does a pretty Tsuk 3/1. I missed his second vault. He goes into 3rd for the moment behind Donell.
Ri Si Gwang - the defending champion is up next. Last year, he had to be carried off the podium by his coaches in a very Kerri Strug-esque moment. He's not injured this year, but his ankles are taped up to the point where they ain't movin. First vault is a piked Dragulescu. Now that his tribute to Dragulescu has been offered, he can do his second vault, his eponymous vault. Boom, done no one can live up to that.
Kim Hansol of South Korea tries to get into the medals but the Gym Gods said "Nope!" and he puts his hands down on both his vaults.
And the Standings were:
1. Rie Si Gwang
2. Marian Dragulescu (who during the medal ceremony ran back to the first place podium to fist pump and wave to the fanswhen the medalists were marching back out)
3. Donnell Whittenburg, grabbing the first medal of the whole championships for the men of Team USA.
Next, the most nervewracking event is up, beam finals!
The event organizers decided that everyone gets their own song. Simone walked out to "American Woman" the Lenny Kravitz version, not the Guess Who version.
Right off the bat, it became clear that she whom would stay on the beam, would medal.
Eythora Thorsdottir of Netherlands is up first. She is sunshine and rainbows and puppies and kitties and everything that's nice. She hit's a beautiful Sissone to an Aerial to a Korbut flip. Super old school. But, then she falls off on her Onodi. It doesn't matter how beautiful she is the rest of that routine. It's marred by that fall. Judges agree with me and give her a 12.733.
Next, is the other half of the Wevers Dutch Sister Duo, Sanne. Sanne's decided that she's gonna fuckin show up. It's as glorious as I hoped it would be. She does her eponymous double L-turn and connects two aerial cartwheels. She does a forward aerial and a single L-turn. May have missed a connection or taken it out. She does a beautiful double turn into split jump, hit no problem. She does a switch leap to a full twisting back handspring, Dismounts with a laid-out gainer. Glorious. Sanne originally was awarded with a 14.233, with 5.6 difficulty value. Sanne is a woman who knows the code of points, she pulls an Aliya and calculates her beam score on the sidelines and convinces her coach to put in an inquiry. Inquiry is accepted and her start score is raised from a 5.6 to 5.7.
Wang Yan was next and up to this point, she was 0-2 for her individual finals, having put her hands down in vault finals and falling in the all-around. Sadly, by the end of this routine, she was 0-3. She fell off right away on her Barani and it was obvious she wasn't going home with a medal tonight. Nope, not with a 13.633.
Viktoria Komova is after Yan. She's a bit of a wild card when it comes to beam. She's beautiful, but she's not consistent on this event. In 2011, she had issues on beam in team finals, and the event finals. This year, she fell in team finals on her arabian. But, so did everyone else in that line-up. She managed to hold on today. She hit her back handspring to layout stepout series, but had another problem on her Arabian, with a pretty big balance check. For a moment, it looked like she was going to fall. But she held on, she had another balance check on her front tuck. She got through okay, but not completely unscathed, she scored a 13.933. On the sidelines, she looked like she was just kinda like "meh, what can ya do."
Pauline Schaffer of Germany was after Vika. She's one that has grabbed the attention of gym fans with her crazy eponymous side-somi half. She didn't throw that skill, much to my dismay, but considering how the finals were going, probably best to hold something back. She's got a wieked cool mount. Essentially, she jumps back on the beam from a springboard and lands in straddle split position. She had a balance check on her switch ring leap and a small wobble on her back handspring to layout step out series. But she hit, so yeah, boom baby. 14.133
Poor Ellie Black, not immune to the butter beam either. She hit her back handspring to two foot layout, but fell on her back handspring to tucked full. Ugh. She scored a 13.466. So unfortunate. She was the beam Commonwealth Games champion and Pan Am Games champ and it's sad to not see her do well here.
Simone, the woman of the hour. The defending beam world champion. She had issues on beam during the all-around final, but not today. Simone decided to make the beam her bitch and it had to obey her every command. Her 2 1/2 wolf turn mount was solid, what else? Her barani was solid and from there, the rest of hte routine went much smoother than in all-around finals. Hitting all her connections, including a huge back handspring to two layout stepout series. Her only visible error was a small balance check after a switch half to back pike and a slight balance check on a foward aerial. And the icing on the cake, she stuck her full in dismount. 15.358 for a solild routine.
Seda Tutkhalyan of Russia whom Spencer from the Balance Beam Situation referred to as a Kristal Uzelac look-a-like and now, I can never unsee it. She's been consistent on beam this competition in she's been consistent in falling OFF the beam. In the all-around final, she fell on her back handspring to laid out full, and tonight, she fell off her back handspring to two foot layout with no twist. Ok, I really think she needs to be put in the University of Florida's beam line-up and have pressure sets trained every damned week. If Florida can turn Mackenzie Caquatto into a consistent beam worker, then I think that's what Seda needs. Or maybe she can go to Oklahoma and have KJ Kindler knock some consistency in her, something. I say this because she should be a phenomenal beam worker, and she is, but she needs to be hitting consistently and not falling consistently, training for situation. She shouldn't be falling in every single competition on beam. Ugh, she scored a 13.500, Komova had a talk with her after that routine.
Beam standings (medals):
1. Simone
2. Sanne
3. Pauline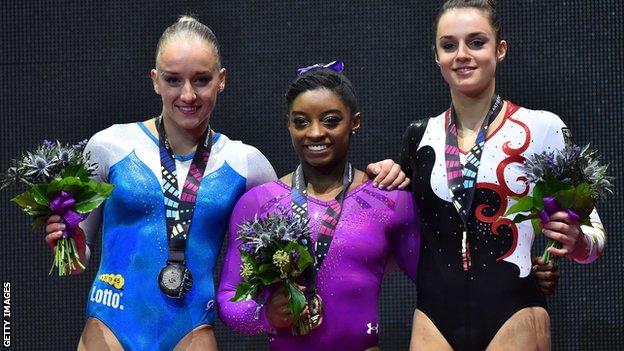 Paralell bars - not a huge reacap, I don't know much about the parallel bars.
Deng Shudi and Oleg Stepko tied for the bronze medal. I think the judges have the hots for him, because I think he tied for another bronze. Danell Leyva was in this final. He's a previous world champion on this event and he won silver last year.
He hit a grat routine, and it earned huge excited cheers from Yin Alvarez, his dad/coach (dad-a-ger?). But the judges sucked and didn't agree, or maybe his D wasn't hard enough. Probably. The top guys in that final all scored a 7 + D score and Danell had a 6.9. Judges also failed to reconize Manrique.
Oleg Verniev hit a nice routine and even though he looks like he's 14, even though I think he's 20 something. He has nice lines and is very light on the bars and works the D pretty well. He got silver behind China's You Hao.
Floor finals are next. The last even final for the women, which means, worlds is almost over. Lame. This is Simone's definitive event. As long as she manages to stay on her feet the entire time, she's guaranteed a gold. So everyone else can just compete for silver and bronze.
Sae Miakawa of Japan lead off the competition. She's got great tumbling like a lot of the girls on the Japanese team. She opened with a full twisting double layout, came up a little short on the landing. Second pass she did a front layout to double front tuck. Double double tucked and finished with a clean double layout. Sae received a 14.933, definitely a solid routine.
But Sae was the warm-up act and Simone was the main attraction. She was on fire, hitting a solid beam set and now, for her encore. During the all-around final, she went out of bounds on her Biles (double layout half out) to split jump, but today, Simone was all "Nu uh! Not today!" I swear she choreographed a spot in her routine where she could point a the corner and give a thumbs up to the judges. She scored an astronomical 15.800 and was like "I'll accept my gold medal on a gold platter sil'vous plait!" She may have beaten Beyonce out for the title of Queen of the World. Beyonce now grovels at Simone's tiny feet.
Lieke - the other Wevers Wonder Twin, got bumped into this final after Erika Fasana and Giulia Steingruber withdrew. Lieke is a European Games bronze medalist on this event, and she has beautiful form. Not huge tumbling, but like her sister on beam, she's got her routine comprised of about 50 billion and one turns and they are all beautiful. She does a triple turn in attitude that kicks the crap out of Ksenia Afanasyeva's double attitude and a quad turn. All very beautiful. happy that she was in this final after all and she scored a 14.100.
Simone's bestie and world's roommate Swaggie Maggie of the USA got her swag on and turned her Swag-O-Meter up to 11 and earned herself a bronze medal. She has been so solid every step of this competition, from qualifying to finals. She doesn't have a huge huge start value like Simone (for the record, no one does), but she's got plenty of difficulty nonetheless. She started with a double double tucked, and did a full in tucked for her second pass, third pass, a piked full in and finished with a double back to 15.200 score with a 6.2 start value.
Ksenia Afanasyeva made her first worlds event final appearance since the 2011 Worlds where she took home the floor title. She opened with a beautiful double layout (after a Ferrari Leap). Double L turn. Pulling a Kim Zmeskal into two whips to a triple twist. None of this whip to double Arabian. Pssh. 3rd pass, a 2 1/2 to front layout, double attitude turn with plenty of attitude. This is Afan we're talking about after all. Finished with a clean double pike to a cheeky smile. Because that's Afan and that's how she rolls. She ain't got time for your drama, she's got to save the Russian gymnastics program. She scored a 15.100 to move ahead of Maggie Nichols for silver medal
Then there's Frags with her awesome back spin. By this time, really all the medals had been decided, no one else was going to come close to Simone and her posse of attitude and swag. Frags has huge tumbling, but lacks the control and form of Simone and even Afan.
Ellie Downie could probably have taken the bronze if she wasn't following Simone and the Swag and Attitude posse. She did a great routine and had great difficulty and execution, with a 14.733, placing 6th overall. She did a huge pike double arabian, which was huge. But I guess her start value was not as high as Afan, Simone and Maggie. She had a 6.0 start value, but Simone has a 6.8, Afan had a 6.4 and 6.2 for Maggie. Hopefully, she can add couple tenths here and there and maybe clean up her execution a little bit more.
Shang Chunsong finished out the final. The judges once again must have had motion sickness from Kenzo Shirai's routine the night before. They took one look at Shang's 3 1/2 to front pike and 1 1/2 to triple and they ran to get some Dramamine. Shang tried to protest and put up an inquiry, but the jduges were too busy puking their guts out and Supreme Technical Committee Supreme Leader Nellie Kim gave her the boot. She had a 14.933, had her inquiry been accepted, she would have usurped Maggie Nichols for the bronze. Guess Aly Raisman transferred her fourth place curse to Shang.
Shang seems ok with it though. She gave an interview to the Chinese press after worlds and she basically said "The judges do what they do. All I can only control what I do." I'll post the video down below:
Afan is just SO over it
Before moving on to the high bar final, I need to mention the huge accomplishment Simone achieved. She is now the proud title holder of 10 world championship GOLD medals. That doesn't include her bronzes and silvers. She's beaten Shannon Miller for the most amount of world championship medals held by an American woman. Including her bronze and silver medals, she has a total of fourteen world medals. She's in third place for the most amount of medals won. Svetlana Khorkina of Russia holds that record with 20 medals, and her career spanned three Olympic cycles.
With that out of the way, we can move on to the high bar final. the last final of the whole competition. This means that worlds is offically over. To conclude the event, the FIG just decided to throw Kohei a bone and give him another gold medal. Honestly, at this point, the men's finals (women's too) were starting to look like the Oscars. It's more about who is due for a medal rather than who deserves it. But, to be fair, the high bar final looked a lot like the beam final. Whoever could stay on was going to get a medal. Maybe that's the post worlds grief coming through (I think I'm in denial still).
Kohei did the best high bar routine he's done and he was beautiful and awe inspiring and yes, gold medal worthy. He has a big D and he knows how to use it.
This high bar final was marred by the fact that Epke Zonderland wasn't there with his bestie, Mr. Man-Cleavage, Fabian Hambuchen. Fabi had issues during his routine. He had super crazy legs on a Rybalko, which is a stalder forward to 1 1/2 twists and it's super ugly, (finally learned what it is) and he fell on his double twisting double layout dismount and only got a 13.5. Who else
Danell Leyva finally got a medal in this worlds. He was definitly due for one and it was well deserved. He hit a huge high flying routine and hit his double twisting double layout and Yin Alvarez could barely contain his excitement and he ran laps around the arena and back across the atlantic up the steps of the Philadelphia Art Museum and then greeted his son with a huge hug.
Manrique earned another medal, bringing Cuba's world medal total from four to five when he earned a bronze medal. He hit huge releases, laid out Kovacs, laid out Tkatchev, Markelov, hop full and dismounted with TRIPLE twisting double layout. No doubt he was due for a medal in an event final. He is such a talented athlete and he's so fun to watch.
And now worlds are over and I'm sad. It was a great event, British Gymnastics put a lot of effort in this world championships and it definitely paid off. USA Gymnastics and AT &T brought great free live coverage and there was a lot of ups and downs. But there was a lot of great moments as well.
I'll provide a final recap of worlds later this week, but I need a day or two to process my post Worlds grief.