Today, gymnasts around the US made that first leap into adulthood and officially signed their national letters of intent for college.
This is the first day of a week of signings, which will continue through Nov. 18.
What is the difference between a verbal commitment and an NLI? Let me explain:
Let's say in an alternate universe I am a gymanst and I've decided I want to attend college on a gymanstics scholarship. I live in Colorado and there are no schools with gymnastics teams closer than Utah, so I'm going to commit to Utah. I give a verbal commitment after I visit the school and what not.
A verbal commitment is really pretty meaningless. There's nothing binding, legal or otherwise. Gymnasts change their mind all the time (i.e. Lexie Priessman whom originally gave a verbal commitment to Georgia, but wound up attending LSU). So in my hypothetical world, I can decide my junior year that I want to attend Florida or UCLA instead, just because I feel like it.
These are the athletes that will join the ranks of collegiate gymnasts in the 2016-2017 season:
(This is a week long event - updates will be provided later)
Illinois (
Release
)
Rae Balthazor, Boulder, CO, Airborne Gymnastics and Dance
Lindsay Dwyer, Glen Cove NY, GMGC Huntington
Karen Howell, Sterling Heights, MI, Olympia Gymnastics Academy
Oklahoma (
Release
)
Maggie Nichols, Little Canada, MN, Twin City Twisters
Alex Marks, Cushing, OK, Dynamo Gymnastics
Jade Degouveia, Ft. Lauderdale, FL, American Twisters Gymnastics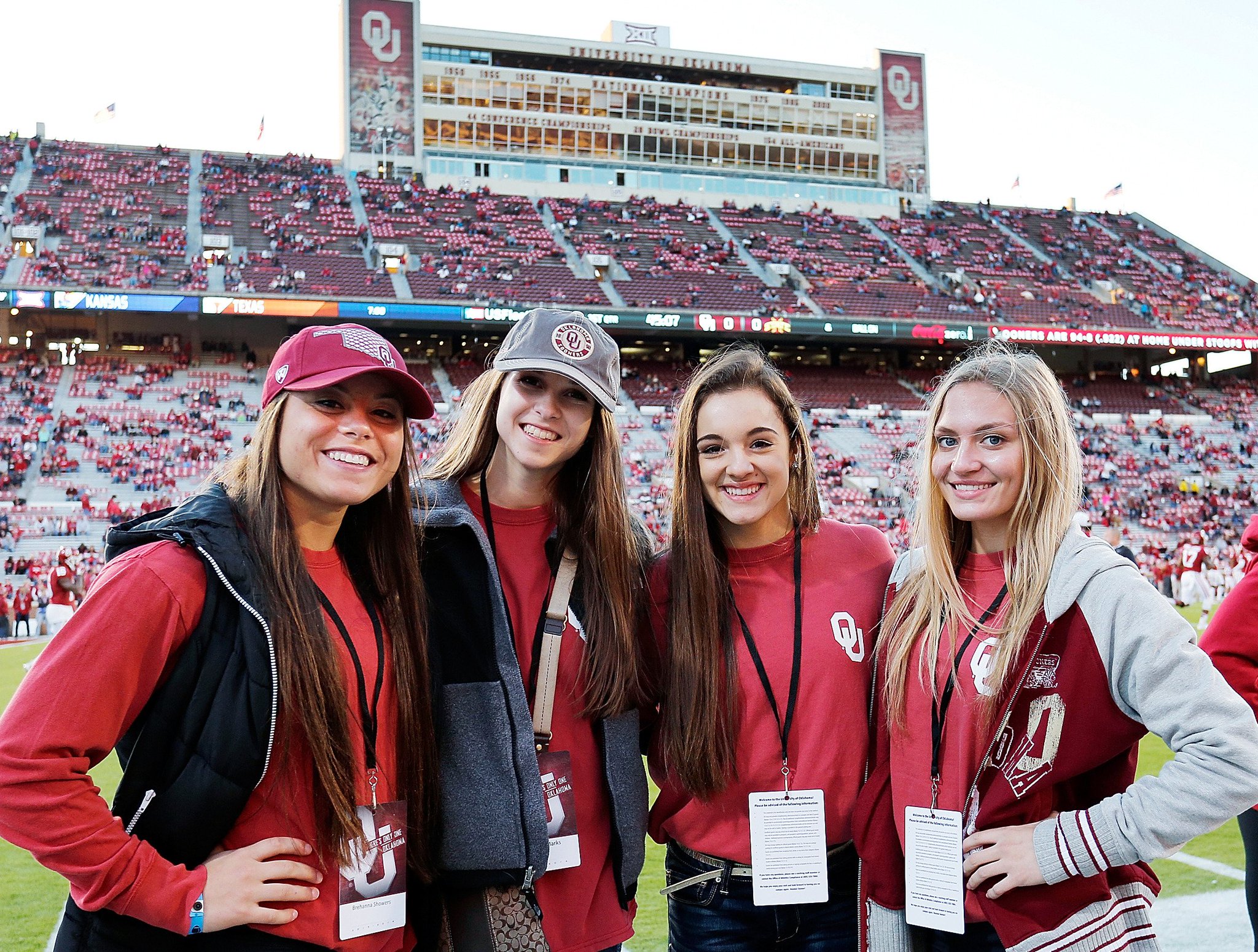 UCLA (Via Twitter)
Anna Glenn, Southeastern Gymnastics, Weddington, NC
Grace Glenn, Southeastern Gymnastics, Weddington, NC
Florida (
Release
)
Alyssa Baumann, WOGA, Plano, Texas
Maegan Chant, Waterdown, Ontario
Rachel Gowey, Chow's Gymnastics, Urbandale, IA
Amelia Hundley, Cincinnatti Gymnastics, Hamilton, OH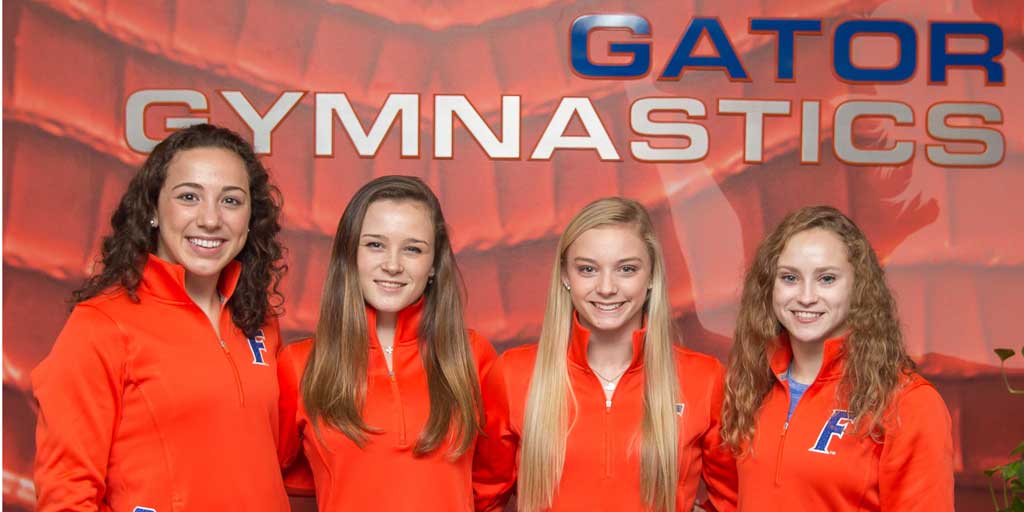 Utah (
release
)
Missy Reinstadtler, North Stars Gymnastics, Brick, NJ
Kim Tessen, All-American Gymnastics, Orem UT
MyKayla Skinner, Desert Lights, Gilbert, AZ (Previously signed)
Alabama (via Twitter)
Shea Mahoney
Madison Desch
Wynter Childers
Minnesota (via Twitter)
Kristin Quaglia, Classic Gymnastics, Chanhassen, MN
Casey Betts, Gold Medal Gymnastics, Chandler, AZ
Michigan (via Twitter)
Polina Schchennikova (confirmed via her Instagram account)
Maggie O'Hara
Maddie Osman
Lexi Funk
Penn State (
release
)
Tess McCracken, WOGA, Plano, TX
Kristen Politz, Rebound Gymnastics, Morganville, NJ
Mikayla Waddell, ENA Paramus, Ridgewood, NJ
Cal (Berkley) (
Release
)
Cassidy Keelen, Texas Dreams, Lucas, TX
Rachel Mastrangelo, Southeastern Gymnastics, Waxhaw, NC
Denver (via Twitter)
Sam Ogden, WOGA, Allen, TX
Courtney Loper, Chow's Gymnastics, West Des Moines, IA
Maddie Karr, Twin City Twisters, Stillwater, MN
— Denver Gymnastics (@DU_Gymnastics) November 12, 2015
LSU (via Gym-Style.com Facebook)
Ashlyn Kirby, Shooting Stars Gymnastics, Claremont, NC
Ruby Harrold, The Academy, Bristol, United Kingdom (via Ruby's Twitter)
Signed my NLI! Officially an LSU tiger!!! Beyond excited!!

#GeauxTigers

💛🐯💜

— Ruby Harrold (@RubyHarrold) November 12, 2015
Auburn (via Gym-Style.com Facebook)
Kendal Moss, Everest, Cornelius, NC
Katie Becker, Everest, Boone, NC
Arizona (via Twitter)
Christina Berg, Legacy Elite, Tinsley Park, Ill
Courtney Cowles, Brandy Johnson's Global Gymnastics, Minneola, FL
Heather Swanson, American Twisters, Parkland, FL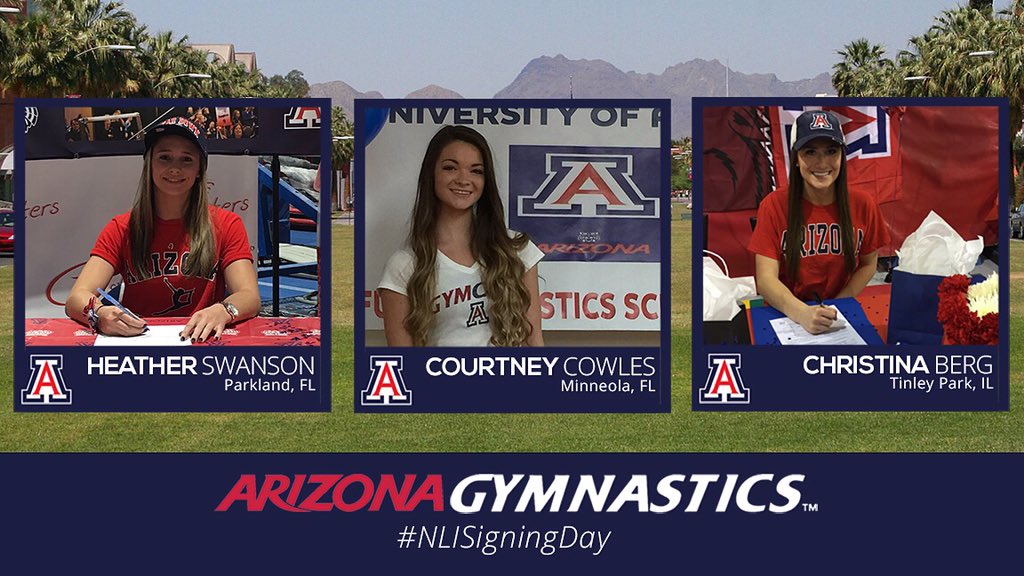 Towson
Ally Wesoly
Stanford (via Gym-Style.com Facebook)
Kaylee Cole
Arizona State (via Gym-Style.com Facebook)
Ashley Szafranski, Parkettes, Orefield, PA
Heather Udowitch, Metroplex, Allen, TX
North Carolina State University (via Gym-Style.com Facebook)
Alexis Beucler
Boise State (
release
)
Courtney McGregor, Christchurch School of Gymnastics, Christchurch, New Zealand
Isabella Amado, Excalibur, Virginia Beach, VA
McKinley Pavicic, Salcianu Gymnastics, Las Vegas, NV
Arkansas (via Twitter)
Sarah Shaffer
Michaela Burton
Sabrina Vega, GAGE, Carmel, NY
Jordyn Pederson, Manjak's Gymnastics, Burlington, Ontario, Canada
Rachel Dickson, Michigan Elite Gymnastics Academy, Canton, MI
Kentucky (
release
)
Alaina Kwan, AOGC, Cypress CA
Erynne Allen, Paulding Gymnastics, Powder Springs, GA
Utah State (
Release
)
Brittany Jeppsen
Jessi Rondeau
Elle Golison
Jazmyn Estrella