Florida has their first meet and their first win of the season under their proverbial championship belt, beating Texas Women's University by a huge 5.375 points. Coincidentally, I believe that's how much the US team won by at the World Championships in Glasgow.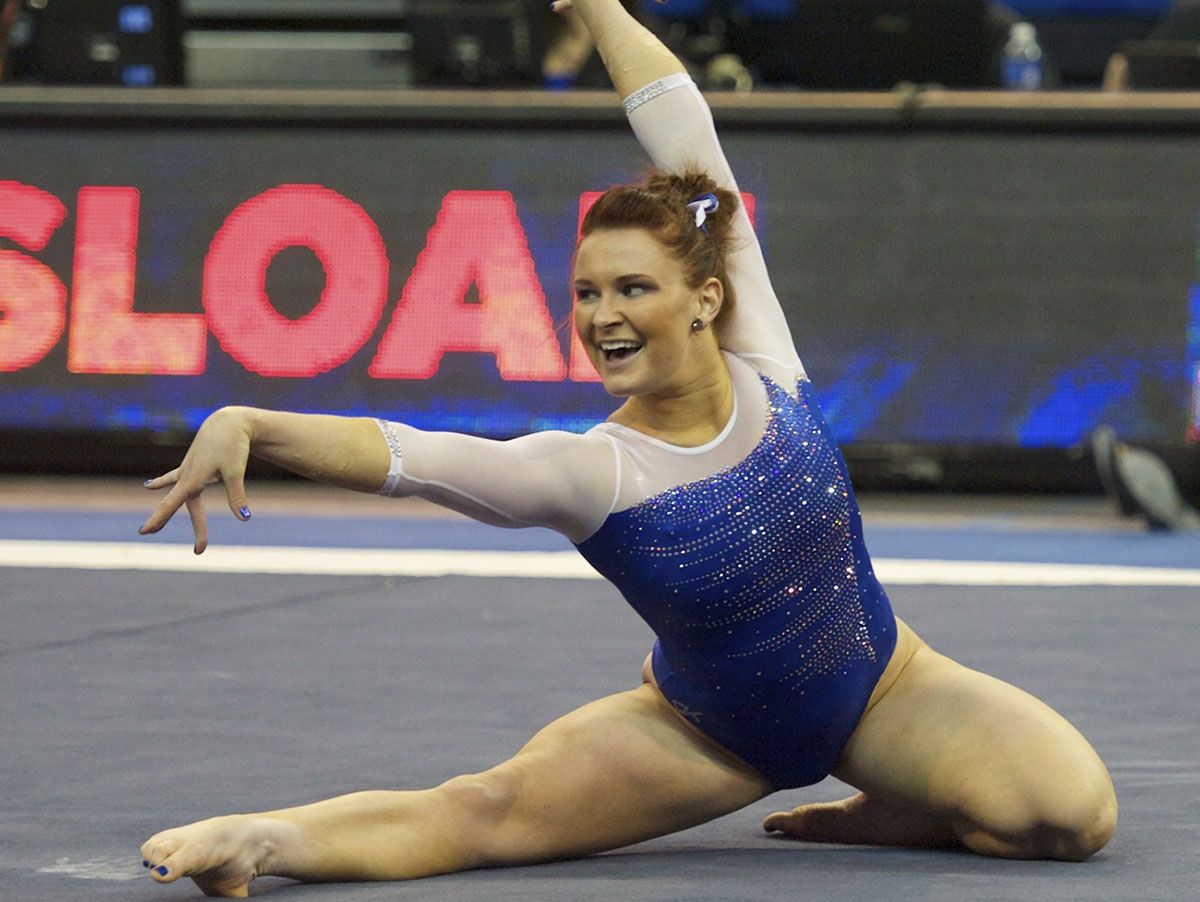 It was the first meet of the season and both teams had mistakes, but Florida was at least able to absorb their mistakes and pretend they never happened.
Texas Women's University had a splat fest of their first couple events. Counting falls on both vault and bars. They got it together a by beam and had it mostly together on floor.
Starting on bars as the visiting team, Florida had a solid rotation scoring 49.175. Kennedy Baker lead the Gators off with a 9.825, small step on her double front dismount. Bridget Sloan took the highest score with a 9.875, she had flexed feet on her Tkatchev (to be expected from Sloan), but dismounted with a strong double layout, just a hop forward. Alex McMurtry debuted a huge Ray to bail and dismounted with a clean full in. Alicia Boren in debuted in the exhibition spot her first college routine. Powerful Tkatchev and dismounting with a huge double layout.
TWU started very slow. Vault was mostly a sea of Yurchenko fulls. Mallory Moredock put her hands down on her vault, scoring an 8.9, and Brandi Lazurus put her hands down scoring a 9.125. The Pioneers had to count a 9.125, and came off with a 47.825.
On Vault, the Gators were not nearly as formidible as they have been in past. The Kytra Hunter gap was apparent. Ericha Fassbender went first for the Gators, clean FTY, but hopped on the landing. Kennedy Baker put up a solid 9.8 and Bridget Sloan had a beautiful FTY, with a nearly stuck landing, small shuffle of the feet, earning her a 9.875. In her first "official" Gators vault, Alicia Boren threw a huge Yurchenko one and a half, but sat it down, scoring a 9.35. Then Alex McMurtry came to save the rotation, pulling out a stuck FTY, and pulling of a 9.925, topping off for a 49.025
The Pioneers' bar rotation didn't go too smoothly either, having to count a 9.2 and a 9.025, from Megan Gentry and Schyler Jones after Jones had an unfortunate face planting incident and Gentry put her hands down on her dismount. Katie Simpson had the best routine for the Pioneers, with a beautiful stuck double layout dismount and a smooth Maloney, scoring a 9.750, earning the Pioneers a 47.375.
The best event for the Pioneers was hands down beam and with Courtney McCool being their head coach, they should be and I expect it. Megan Gentry showed a tucked full. Mallory Moredock lead off the pioneers with a back roll mount and dismounted with a pretty round off double full dismount.
The Gators had their groove back on floor. Grace McLaughlin opened for the Gators, with Bailie Key's 2014 floor music (Lindsay Sterling's "Crystalize"), solid with a front layout to front full opening pass and ending with a front full to front pike for a 9.850. Alicia Boren was able to make up for her disastrous vault rotation by putting up a huge floor routine. Opening with a tucked full in and ending with a clean double tuck, earning a 9.85. Kennedy Baker showed huge difficultly with her piked double Arabian opening pass.
Of course, by now, a win was guaranteed for the Gators. They were ahead by 3.85 and the last rotation was now merely a formality. Ericha Fassbender and Alicia Boren both scored 9.9's. Fassbender showed an awesome Danusia Francis-esque aerial walkover to layout full dismount combination. Boren by now had forgotten about her vault mishap and showed tremendous poise when covering up a small balance check on a front toss and demonstrated power with a huge double tuck dismount. Alex McMurtry showed a switch leap to back hip circle and received a solid 9.875. But, ah, the wonderful glorious Peyton Ernst made her colliegate debut with a gorgeous beam set, showing beautiful control and elegance on her press handstand mount, had an awesome front aerial to back tuck combo set. Dismounted with a Gainer pike, just a small hop on her landing. The Gators added a 49.425 to their overall 196.825 to TWU's 191.450, dropping Bridget Sloan's beam score 9.85. They were Gator chomping away after that win, which was obviously expected. For the current reigning champions, anything but a win would have been unacceptable.