Today, the FIG announced the list of competitors who will be competing at the Stuttgart World Cup in March.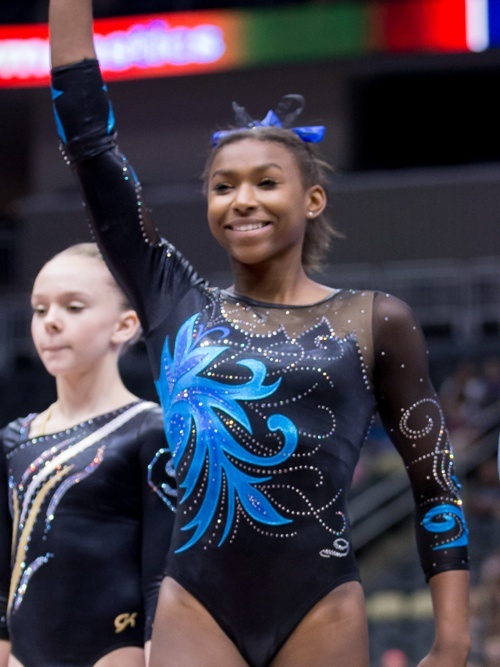 Among the list of competitors, the US is sending , Nia Dennis, making her international debut as a senior.
As a junior, Nia took home the team gold at the 2014 Pacific Rim Championships and took home a silver medal in the all-around and on vault. In 2015, Nia switched from Buckeye Gymnastics to attend Legacy Elite, under the tutelage of Chinese Olympians (and parents of NCAA gymnast World Champion and Olympic alternate, Anna Li) Jiani Wu and Yuejiu Li. Nia made her senior debut in 2015 where she placed 9th in the all-around at the P&G Championships.
This is excellent news. With MyKayla Skinner going to the Glasgow Cup and Maggie Nichols and Gabby Douglas representing the USA at the American Cup, the US is well represented in the World Cup series this year.
Other notable names in Stuttgart includes 2015 World Bronze Medalist, Ellie Downie and Youth Olympic Games all-around champion, Seda Tutkhalyan. Pan-American Games Team Gold Medalist Isabela Onyhsko will be representing Canada. Elisabeth Seitz, the German bar phenom is also making an appearance. Germany is also sending a first-year-senior, Tabea Alt. Xie Yufen will make an international debut for China.
2012 Olympian from the Netherlands, Celine Van Gerner and Italy's Elisa Meninghini of Italy round out the women.
Representing the dudes of team USA will be 2015 World High Bar silver medalist, Danell Leyva. 2012 Olympic All-Around and Parallel Bars Silver Medalist, of Marcel Nguyen of Germany is making a comeback after tearing his ACL in the fall of 2014. Expect tons of man cleavage and bear hugs as Nguyen's teammate and 2012 Olympic High Bar Silver Medalist (and many time World and European Medalist), Fabian Hambuechen is also attending.
See the lists below for the rest of the men's competitors:
The Stuttgart World Cup will be held in Stuttgart, Germany March 19 at the Porsche Arena. For more information visit:
http://www.fig-gymnastics.com/site/figNews/view?id=1424