It's Tuesday, March 15 and, if you're familiar with Shakespeare, you may recall that it is the Ides of March. Beware the Ides of March!
It's also time for Power Rankings.
As per usual, these aren't the official Road to Nationals rankings, rather they are stories and people that have caught my attention throughout the week, whether it be note-worthy events or a reaction to something.
Last week's Power Rankings were
# 1 The Rankings Shakeups
# 2 Greg Mardsen throwing shade at SEC scoring during the Georgia, Stanford & UCLA tri-meet
# 3 Will the real Stanford please stand-up?
# 4 Lindsay Mable
# 5 Beam Fails
# 6 Jessie Peszek
Without further adieu, I present this weeks rankings:
# 1 Soooo many "Perfect" 10's
It's week 10 of NCAA season and that means it's the close of the regular season before everyone competes for bragging rights at the conference championships. For the judges, this meant giving the gymnasts a bone and throwing out a few tens in the scores. At Florida's home meet against North Carolina, Bridget Sloan received her second perfect 10 of the season on floor and Alex McMurtry got another 10 on bars. Of course, my cynical side is saying that since her Yurchenko full has been devalued, I guess the judges decided to give it to her since she threw that Ray in her routine this year.
On beam during their Big Five Qualifying session, Minnesota's Hanna Nordquist received a 10 on beam, which was certainly well deserved.
Then at their quad meet with New Hampshire, Oregon State and Texas Women's University, LSU got another 10. From none other than Ashleigh Gnat, who received a 10 on floor and won the NCAA's
"most tens of the season" award with her fifth perfect ten. Clearly judges all over the country were itching to give tens on floor, Utah senior Breanna Hughes also received a 10 on floor exercise... at home... on senior night. Hey, at least that's a good memory she'll always have. So, my cynicism is quelled by my optimistic side there. So with the three floor 10's thrown out there, then the beam 10 and the bars 10, that's five 10's given in the course of one weekend. That must be a season record.
# 2 Morgan Lane of North Carolina's Beam Routine
If ever I saw a beam that was deserving of a perfect 10, it's this one. She didn't get a 10, she got a 9.95 and won the beam title... at Florida. This is impressive, especially when there is an entire freaking solar system of fantastic beam workers at Florida. Morgan's opening sequence, a press handstand into two layout step-outs. Gorgeous, fantastic, amazing. She closes her routine with a beautiful, elegant and floaty round off to one and a half twist.
— Carolina Gymnastics (@uncgymnastics) March 13, 2016
tyl
# 3 Battle of the Beamers - Danusia Francis vs Chayse Capps
This Sunday's meet with Oklahoma against UCLA was a chance to see the two best beam workers in the NCAA go head to head. Oklahoma's Chayse Capps versus UCLA's Danusia Francis. It was senior night, UCLA's last home meet of the season, Oklahoma's last regular meet of the season, Danusia's last meet at Pauley, like ever, but, then, there is the glorious Chayse Capps. Who would come out on top?
Chayse Capps.
Danusia anchored the beam rotation (sort of) after Sonya Meraz scratched after crashing during the beginning of her routine. She was beautiful. Her transverse aerial to full dismount was glorious. Choirs of angels burst in to song. However, she had a small wobble on a series and received a still solid, 9.875.
Chayse was nearly perfect and was perfect according to one judge perhaps. She showed beautiful control and strength on a press handstand mount. She moved fluidly in and out of her back handspring layout step-out series and showed beautiful grace and control on a front toss to scale. Chayse's routine won her a 9.975 and the beam title against UCLA. Proving that she is (at least in the regular season) the ultimate NCAA beam worker.
# 4 The Big Fives - competing to compete for bragging rights in the Big Ten
The Big Ten conference has set up a way to seed their athletes in the championships afternoon and ranking sessions without relying on rankings. Have them battle it out for their spots, Hunger Games style; compete to the death and the last one standing gets to compete in the evening session. Okay, so that's a little extreme. How they really did it is the teams each competed in a qualifying session of five teams. The top two scoring teams from the first session and the top three scoring teams from the second session would get to compete in the evening session.
Michigan being the highest rank team in the Big Ten and the current reigning Big Ten Conference Champions obviously expected that they would take the top spot and go on to the evening session. But, Minnesota was all "nuh uh" and Michigan had a fall on bars and two falls on beam and were all "Et tu, Brute? And then fall Caesar" (Little Ides of March humor, sorry) and placed third as Penn State chose today to rise to the occasion and joined Brutus aka Minnesota in the top two spots. Michigan was almost in the morning session, but then somehow, they made the evening session with Nebraska, Michigan State and Ohio State. So we went from a Shakespearean tragedy to a Disney movie in the course of one day.
Minnesota had the top score of all the sessions, so they got the bragging right of being "Regular Season" Big Ten Champions. Because... I don't know.
# 5 Shawn Johnson Professes Her Love for NCAA Gymnastics, and the reasons we all watch and love it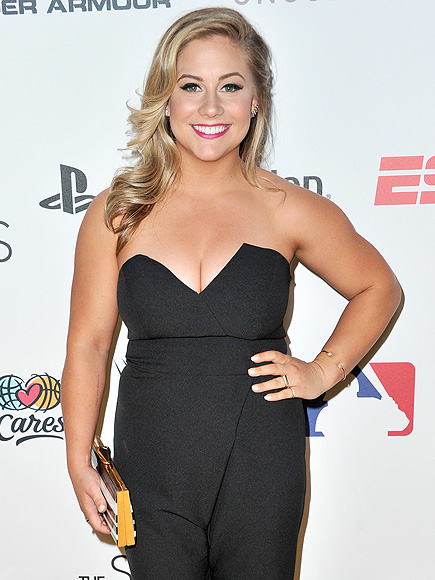 During the broadcast of the second session of the Big Five Qualifier, Shawn Johnson's co-commentator talked about an NCAA coach being so happy that Shawn has become such an advocate for college gymnastics. Shawn then said "Oh I love college gymnastics." She explained the reasons she loved it were for one the energy of the girls and their enthusiasm. Also, the camaraderie. Then she said "If I could go back and do it over again, I would do college gymnastics." That's a huge testament to NCAA gymnastics, especially coming from someone who has several Olympic medals and a world all-around title and a world team gold medal and several other world medals to say. The reason why this touched me is that honestly, these are the reasons why I love NCAA gymnastics and I've managed to convince my husband to come with me to so many NCAA meets. He loves the energy and the gymnastics awes him and he loves the team spirit! One additional personal plus for me, NCAA gymnastics is on TV far more often than elite. So yeah.
# 6 Allie Northey Beats the Second Ranked All-Arounder in the NCAA on Senior Night
Washington Senior Allie Northey concluded her senior year at Washington with a win with the team at home on Senior Night, and she took her fifth all-around title of the season. The icing on the gymnastics cake is that Allie beat Nina McGee, the number three ranked all-arounder in the NCAA.
Allie has been such a huge part of Washington's success this year. She's been super consistent and reliable for her team. Plus, she's such a delightful gymnast to watch. She's very crisp and sharp. And, as the only competing senior on the team, Allie has led by example, and perhaps, her younger teammates have taken her example to heart and have used it as a motivator. She's definitely become one of my favorite athletes this season and I'm going to be sad to see her go after she graduates.
Washington also beat Denver and Seattle Pacific. Washington met Denver at home earlier in the season, and it was a win for Denver. It's a huge testament to this team, who started off the season being ranked in the forty-something range, but they've slowly worked up the ranking and have improved steadily as the season progressed. It's also a testament of parity in the NCAA. There are so many talented teams with the depth to take on any top ranked team. It's been a matter of putting it all together and Washington is a team that has managed to do that.
.
Finally, remember, beware the ides of March!
" Soothsayer. Beware the ides of March.

Caesar. What man is that?

Brutus. A soothsayer bids you beware the ides of March.

Caesar. Set him before me; let me see his face.

Cassius. Fellow, come from the throng; look upon Caesar.

Caesar. What say'st thou to me now? speak once again.

Soothsayer. Beware the ides of March.

Caesar. He is a dreamer; let us leave him: pass. "
William Shakespeare - The Tragedy of Julius Caesar, Act I; Scene 2
I couldn't help myself.
Until next time, I bid you adieu.