Well, Regionals have happened... It was rough, I gotta tell you.
I've had a couple days, and I feel like I've emotionally recovered enough to do Power Rankings Regionals Editions. Or maybe this is just therapy for me.
As per usual, these aren't the official Road to Nationals rankings (or in this case the rankings after Regionals), rather they are stories and people that have caught my attention throughout the week, whether it be note-worthy events or a reaction to something.
Previously for Conference Championships, the power rankings were:
1. UCLA's side eye inducing beam total
2. Peng Peng Is Injured...Again
3. Florida wins the SEC Championship; Coach Jenny Rowland has her Oscar Moment
4. Kaytianna McMillian of Oregon State does a hella cool back spin on floor
5. Zoe Draghi of Cal's funky floor choreography
6. No tens for you, Ebee Price or McKenzie Wofford
With that, here are the Regionals Power Rankings:
1. Shake-Ups and Surprise Results
This year in NCAA Gymnastics, the amount of parity between the teams has been incredible to watch. There have been upsets and no team has been safe in their ranking. This was definitely the case this weekend. Granted, there were the regionals that went as expected. Georgia and LSU qualified out of the Athens Regional (Georgia at home, please). UCLA and Utah qualified out of Salt Lake City. But, the biggest upset, and emotional trauma for yours truly was at the Minneapolis Regional. Dammit... I'm still not over that. Obviously, the biggest battle was going to be between Minnesota and Denver. Minnesota had the upper hand since they were at home... and they had the biggest d--- judges. But to be fair, Denver did not have a good meet. They started off on beam, which has been a good event for them, they started off well on beam at Big 12's, but alas, Claire Hammen scored a 9.525 and Denver had to count a 9.55 from Katie Menhenick... The rest of the team did not fair much better, with the exception of anchor, Emily Barrett, scored in the 9.7 range. Oh, quel horror! They recovered on floor, but bars was a bitch, as it had been for basically everyone. Florida had the best bars score at that meet with a 49.125, Minnesota had a low score of 48.950 on bars, but again, the judges had no heart. Michigan was upset at home unlike the other teams and they were upset by Auburn and Stanford who both tied for the Ann Arbor regional championship with a 196.525. Michigan, like Denver, was let down by the beam. The fucking beam (pardon my language). Gahhh. Olivia Karas took a fall in the lead off spot and when Lauren Marinez fell, they had to count a fall. Ahhh. Even though they came back strong on the other three events, even putting up a huge bar total of 49.600, it just wasn't enough and Michigan lost their NCAA Champs berth by only 0.05. Stanford, despite having inconsistencies all season long was true to form and peaked at regionals, exactly as Coach Rick at Gymnasticscoaching.com predicted.
The judging at these regionals in the year 2016 was... very tight. I mentioned previously Florida's unusually low bars total. Bars is one of their better events and an event that they can score very well on. I'm not sure whether it was because bars judging was tighter at that specific regional or just overall. Personally, I'm going with overall. Vault judging this year has been tight all year long, which is good. No ridiculous tens been given out. But just in reviewing the scores, they seemed a little lower than they have been overall. Greg Marsden remarked on Twitter that the judges seemed to be taking deductions where they actually should be. I'm sure this was to the chagrin of teams like Michigan and Florida (especially Michigan), but it's nice to see scores that don't prompt me to give the side eye.
3. Emily Barrett of Denver
Emily, a senior out of Norman, Oklahoma is an athlete that really deserves a shout out. She is one of the most consistent gymnasts for Denver and possibly even in the NCAA. On Saturday, when Denver was having a beam meltdown, she anchored the rotation and did exactly what she was supposed to do. She hit a solid, clean beam routine and scored a 9.825. I must point out that consistency is her biggest strength and it's been a great asset for Denver. She's a very pretty gymnast, pretty lines, nice form, nice flexibility. Emily is not a Nina McGee or Simone Biles type gymnast, she's a Kyla Ross or Courtney McCool gymnast. What I mean by that is, she may not have the highest level of difficulty, but she has beautiful, clean, perfect form and she can always be relied on to hit when it counts. All season long, she has been a big asset on vault, beam and floor for Denver. She comes out and she hits 99 percent of the time and that is huge. It's great to hit when things are going well for the team and it's even better that she can keep calm under pressure.
4. Sonya Meraz & Janay Honest - Give these girls a scholarship already
If we're talking about consistent and reliable performers, two gymnasts that definitely deserve massive credit are Sonya Meraz and Janay Honest. These girls have been major contributors to all four events for UCLA. They've stepped up to fill spots left by teammates suffering from injuries and they are always consistent. Plus, they're both walk-ons. The UCLA cannon is filled with lore of walk-on gymnasts proving themselves and becoming integral parts of the team, ala Sadiqua Bynum and Ariana Berlin. At this point, if anyone deserves scholarships, it's these two. Do it Miss Val! You know you want to!
5. Lauren Rice and her epic Faux Hawk and Awesome Floor Routine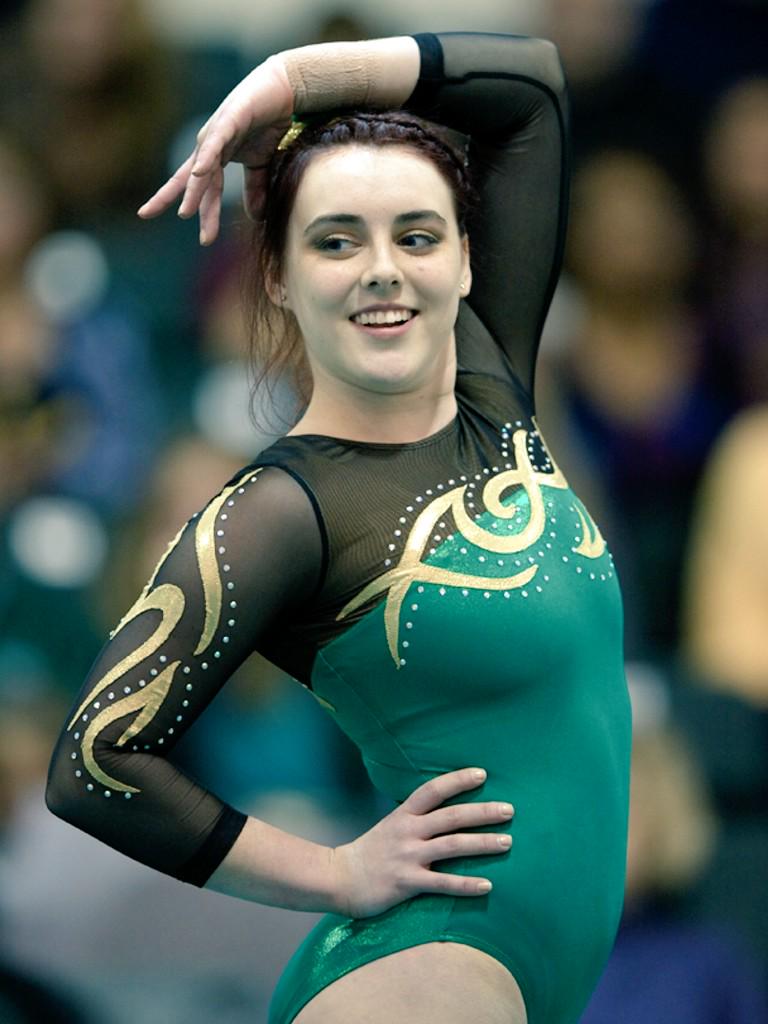 Lauren Rice of Sacramento State, also known as Taylor Rice's sister, came to regionals as an all-arounder and rotated with UCLA. Like her sister, Lauren expresses her spunky personality through unique choreography on floor and beam and through unique hairstyles that make her standout. Case in point, her green faux-hawk. See exhibit below:
Lauren is a talented gymnast as well and like her sister, she's a dynamic floor worker. I'll admit, I was in a pretty shitty mood Saturday and when Lauren came through my feed, my frown turned into a smile. Her choreography is so funky and fresh and she's a delight to watch.
One more reason to love Lauren, girlfriend does "The Robot" on the beam. What?