The moment four years in the making. Women's Olympic Trials starts tomorrow. Oh yes!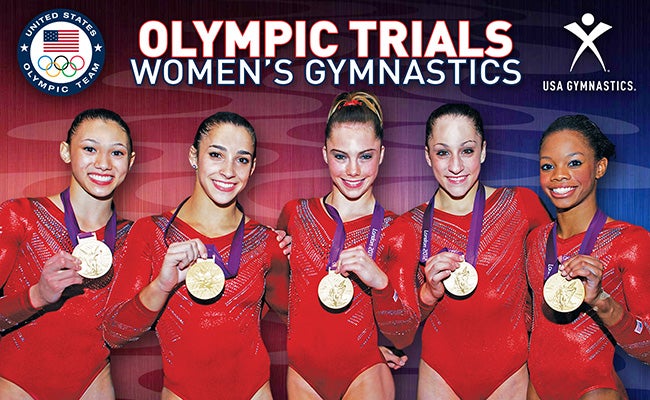 The men already had their trials and the team was announced, stirring up a flurry of emotions from all over the gymternet. Sunday's women's team announcement is likely to bring up the same reactions.
This afternoon, the ladies were practicing their stuff in podium training. We got a small glimpse of training through USA Gymnastics and the Gods of YouTube.
Here are some thoughts - along with some fun videos:
Maggie Nichols
Maggie looks solid on beam and bars. Not a big surprise. We saw her only compete these two events at P&G Championships. She's expected to do the all-around at Trials this weekend. We got a couple of glimpses of her other two events. On vault, she's training a DTY. Not flashy like her Amanar, but, since she's coming back from a knee injury, she may be playing it safe instead of playing fast and loose with an Amanar. Lots of butt-shelving in her beam routine. Damn Spanny Tampson, once you see the butt shelf, you can never un-see it. On floor, we do see her throwing a double double. Impressive difficulty, but she's got some sloppy form in the air.
Gabby Douglas
The only PT video of Gabby I can find is on beam. She's practicing some angry beam and it's awesome. Miss Gabrielle had issues on beam at P&Gs and at trials, she is letting this beam know that it is her bitch. She looks fierce on that standing full and her acro series is so beautiful and extended, it's glorious to watch.
Laurie Hernandez
Videos of Laurie have surfaced of her training beam and vault. Vault - a good, solid DTY. Beam - Laurie is just so stinkin' adorable. She makes her beam choreography as compelling as her floor choreography. There is no lacking sass in this kid. She looks very consistent. She obviously practices like she competes.
Aly Raisman
Aly is looking so fierce. She's in better shape than she was in 2012. She hits 180 degrees on her splits (most of the time). She kills her two foot layout. She actually seems to hang above the beam, suspended in mid air, just for a second before she lands.
Ashton Locklear & Madison Kocian
It's going to be a tough competition between these two this weekend. They are both the strongest bar workers in the US. The gymternet is at odds over who will make the team and who will be relegated to the alternate position. Their routines are super similar, lots of in bar everything transitions and high straddled jaeger. Ashton's form is slightly better than Madison, but Madison's routine carries more difficulty. Plus, Madison has a leg up on Ashton as she has been doing the all-around, even placing fifth at P&G Championships a couple of weeks ago.
Simone Biles
Last but not least. Simone is in a league of her own. Really, I think her gymnastics speaks for itself. That's what I'm going to do. This is not because it's almost 10:30 at night and I have to work tomorrow morning... I swear. It's Simone, she's only the consecutive THREE TIME world all-around champion.