Well, one night of trials is over and done with. There is still one more night of intense competition in this pressure cooker.
I wish that metaphor were hyperbole, but alas, I kid you not. The pressure is on in San Jose. This is really it, you eff up too badly here, your dreams of Olympic glory end.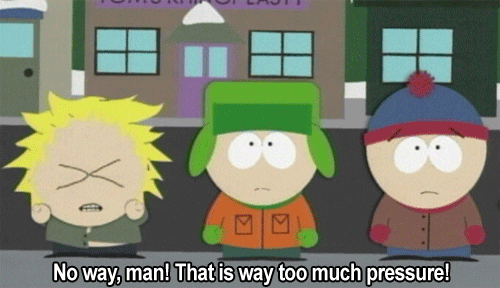 So who is holding up under the intense scrutiny? Let's take a look and see.
First - we have Simone Biles, who is sitting pretty in the first place spot with a 61.850. She's a full point ahead of second place holder, Laurie Hernandez. Simone, even though there are some small fissures in her armor (cracks is not the appropriate word at the moment). She had a small error on bars, a leg separation on her Weiler half and an issue on beam, that I did not see because NBC Sports did not let me. Damn you! Even with those small errors, she is still on fire. Plus, it's good to see that she is human and she can make mistakes and come back. She' still likely to be the one "lock" by winning the all-around after two nights of competition. (It is possible she was still recovering from Zac Efron's tweet to her earlier that day)
Aly Raisman is looking FIERCE. She is the best argument for why gymnastics is not just a little girl's sport, but a WOMAN's sport. At 22, Aly looks incredible, she's super fit, possibly even more fit than she was in 2012. Her form has improved by leaps and bounds, especially on her splits, actually hitting 180 degrees on her splits from time to time. She has the floor routine that is packed. Seriously, one of her passes is a one and a half twist step out to double arabian to front layout. Bars is not her best event, she has some small form issues here and there, but I no longer find myself cringing every time she mounts the bars. Her bars are never going to be Aliya Mustafina or Madison Kocian levels, but her bars are reliable enough to count on when needed. She's so calm under pressure, obviously a subscriber to the KJ Kindler philosophy of "only focus on what you can control." If she or Gabby Douglas or both make this team, they will be the first repeat Olympians from the USA since the 2000 Olympic Games in Sydney, where Amy Chow and Dominique Dawes.
Speaking of fierce, one Miss Laurie Hernandez is on fire. She is currently SECOND place behind Simone Biles with a tremendous 60.850. This score was despite errors on bars and beam. She's not immune to the pressure at trials, which is so great, diamonds could form. On bars, she botched an endo half but recovered well and kept going as if nothing had happened. A lot of times, when gymnasts botch a skill on bars, they panic, and then do ten more skills, throwing off their rhythm and basically, fucking with the entire rest of the routine. My Hitchhiker's Guide to Beam philosophy, "DON'T PANIC" also applies to bars and Laurie understands and practices this philosophy in all her events and especially on beam. When she had an error on her acro series, she simply moved her foot and saluted as if nothing had happened. She was basically telling the judges "Error? Pssh, bitches, please, I so did not have an error" and the judges agreed.
Of course, beam was the mortal enemy of Gabby Douglas as it has been many, many times before. She had wobbles in her routine, but her downfall was a single L turn. This prompted Nastia to comment that it was the "easiest" skill in her routine. It was her last routine of the night, so for Gabby, it was essentially the shittiest way to end the first night of trials. Gabby was one of the five that Marta Karolyi said she was specifically looking at for the Rio team. There is still one more night of trials, so she could pull it together on night two and still make the team. But of course, nothing is set in stone, and she could completely melt down on night two, and wind up not on the team. Gabby is good about hitting when it really counts so she could still pull it off.
Ashton Locklear felt like taking a chainsaw to the beam after falling on her back-handspring to layout step-out series. Since Ashton is only competing two events, it really hurts her chances, especially, when her biggest competitor, Madison Kocian hits her routines and competes all four events. Really, if Madison keeps doing her job and nails her night two routines, there's no doubt that she'll be on that team over Ashton in my opinion.
Then there's Maggie Nichols. Oh the horror. Maggie joined Gabby and Ashton in the "Fuck You Beam" club, falling on a side aerial. Maggie was back to doing all four events in competition for the first time post injury. This was her chance to show Marta that she was back in her World Championships shape. It's not really clear at this point if she actually is.
For a surprise hit, I'm going to be looking closer at MyKayla Skinner. MyKayla's someone who's definitely gotten a lot of flack for her for form in the past and she's not always been known as the most consistent. At trials, she was looking very solid. She wound up fourth after the end of night one behind Aly Raisman. Her form has much improved on floor. That double double layout is actually laid out. She's way improved on bars. She's one I'm keeping my eye on for night two.