Long live the King.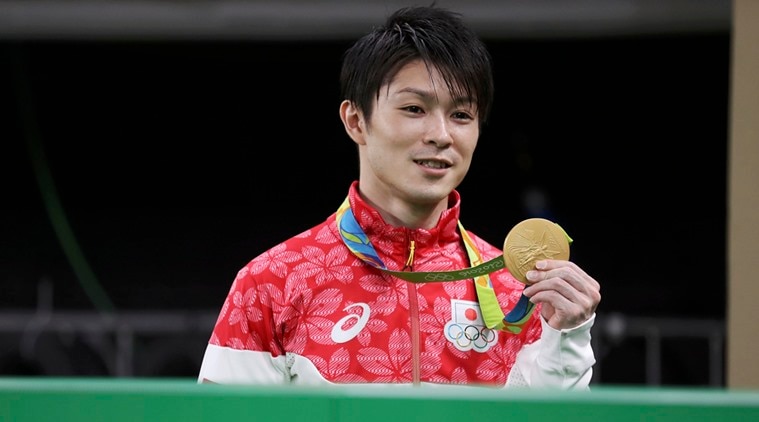 Kohei Uchimura cemented his status as the king of men's gymnastics, winning his second Olympic all-around title, narrowly beating out Oleg Vernaiev of the Ukraine.
Oleg proved himself to be a worth while rival of the King, challenging him and one upping each other through out the six rotations. Kohei had come into the final not even in first place. The list of men wanting to take Kohei's throne was a mile long. Max Whitlock of Great Britain wanted that throne just as much as Oleg.
Slowly, the men competed, they built their scores event by event. Finally, it was down to the high bar. Kohei's strongest event. Oleg has already competed on his best event, the parallel bars. Kohei went on the high bar and floated his way through his routine with ease. He dismounted with a double double layout, stuck to perfection.
Oleg, the last athlete up in the rotation only needed a 14.9 to secure a win over the gymnastics legend. Oleg went through his routine cleanly, but a hop on his dismount took away that one tiny tenth. Ultimately, Kohei won with a 92.365 to Oleg's 92.266. While Max Whitlock didn't do enough to take a gold medal, he took home a bronze medal, which is the first medal for Great Britain in the all-around since 1908.
Kohei also made history by becoming the first gymnast since 1972 to repeat as all-around champion in men's gymnastics.
Elsewhere, David Belyavsky of Russia found himself in an Aly Raisman 2012 situation in 4th place.
As for the men of team USA, Sam Mikulak fought his way back from 15th place early in the competition to ultimately land in 7th with an 89.631. Not a medal finish, but still, a strong finish and somewhere Sam can work his way up from. He has all the potential in the world to be on the medal podium, but he needs to start hitting 6 for 6 in international competition. He still has the event finals to gain a medal for Team USA. Chris Brooks, the captain of the Team USA boys place in 14th overall.
Tomorrow is the women's team final. Join me for a play by play live blog at 3 p.m. EDT.