This meet features two powerhouse teams in the SEC and the NCAA.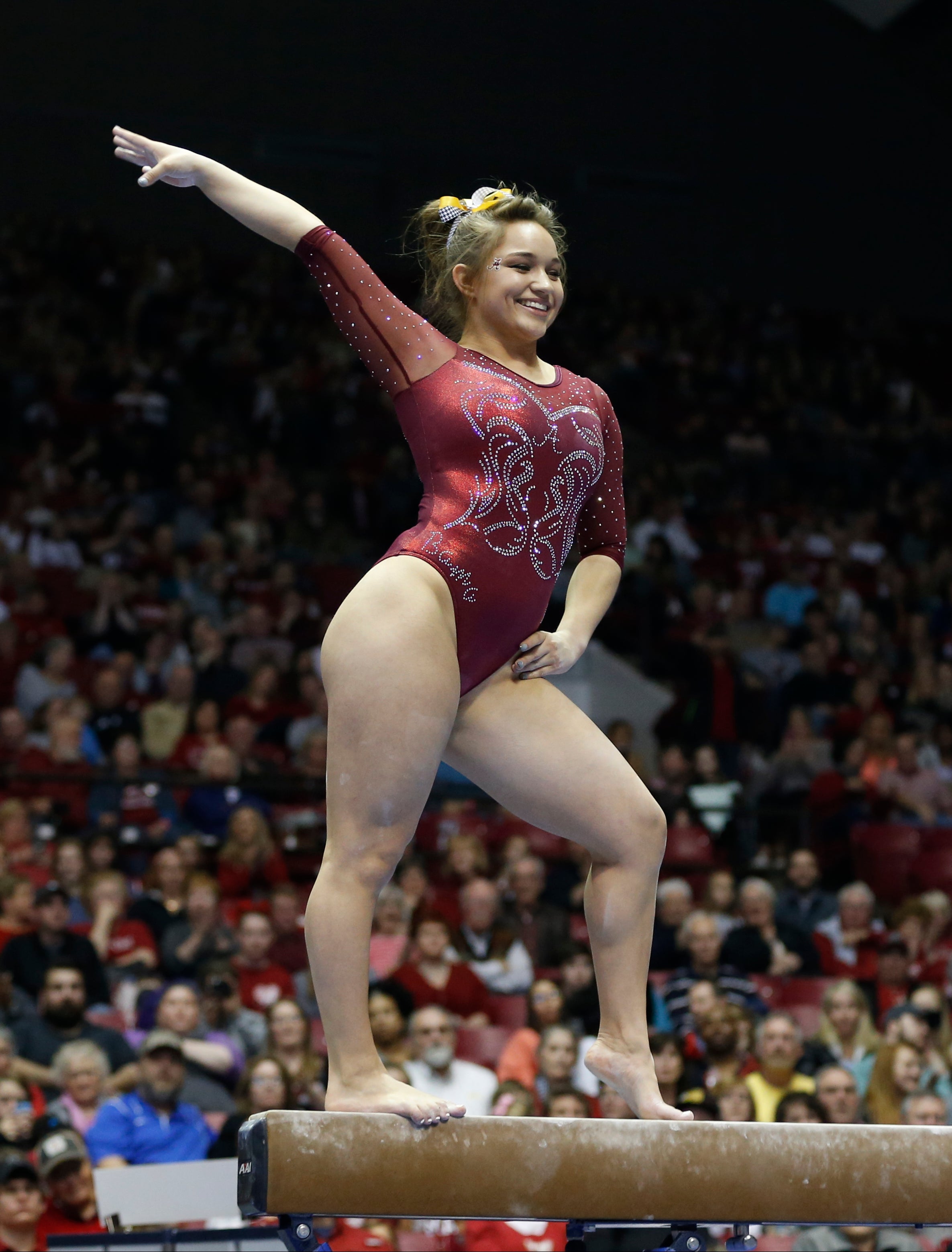 These are legendary programs and two former and maybe current rivals with a legendary list of accolades between them. Over the past year, Georgia had some big shake-ups, bringing in Courtney Kupets-Carter, former Olympian, NCAA Champion and Georgia Gym Dog as head coach. Along with her came former head coach, Suzanne Yoculan as the volunteer assistant coach. This is operation Make Georgia Great Again and this is their first meet of the season.
Alabama had a rough opening meet at Michigan last week, struggling on beam and floor. They're eager to pretend last week didn't happen. However, they did have strong performances. Freshman and former elite, Kylie Dickson showed a beautiful bars set with lovely lines and huge releases. Lexi Graber also showed a solid start to her college career, showing the second highest score on beam last week in the midst of a beam meltdown.
Refresh the page every 5 minutes or so for all the good stuff!
Playing catch up here for a sec.
Wynter Childers leads off Bama on vault with an FTY 9.775
Lauren Johnson leads off bars for Georgia - gienger bail, bit short HS, solid DLO, stuck. 9.775
Maddie Desch VT Bama - FTY, knees deep on the landing, a bit short.
Marissa Oakley UB GA - shap + pak, bit short on the hs, giant full _ dbl back, small hop 9.8
Abby Armbrecht BAMA VT - ugh, judge wasn't paying attention to Desch's vault so there's a delay. So now Maddie has to go again. Dammit judge, pay ATTENTION!
Maddie's second vault - great vault, small hop, but nice height, good form. WTF, a 9.25? there was a .5 deduction. Why?
Natalie Vaculik UB GA - giant ful, + gienger, gorgeous, bail + toe shoot to hb, full in, legs a bit wonky on the second flip.
Now Abby is going - y 1 1/2. soft knees, a bit short on the landing. 9.825
Sydney Snead UB clear hip + tkatchev + bail, nice HS toe circle, DLO, chest a bit down,
Shea Mahoney Vt - FTY, beautiful form, good height, small hop.
Rachel Dickson UB ray, bail, toe shoot to HB, DLO, small hop, but nice routine. 9.875
Lexi Graber VT Bama - sits down her 1 1/2, may have an injury. Ugh, on the re-play they're showing it looks like she locked her knee :( Did it in warm-ups earlier. 9.3
Nickie Guerrero VT - stuck 1 1/2, some knee bend in the air, but good amplitude.
Scores after the first rotation
Georgia bars 49.125
Alabama vault 48.600
Bit of a sluggish start for Bama on vault.
Sabrina Vega leads off vault FTY, good vault. Husband is trying to distract me. >:( 9.775
Childers UB - toe on + shap + bail, blind change to double front half with Nastia crazy legs.
Oakley VT - gorgeous full, small hop, not a lot of height but good form. 9.725
Ari Guerra UB blind change + jaeger, nice, bail, tiny leg seps, DLO, stuck. 9.9
So LSU has the stick crown, Alabama has the Diva Belt. Ok, good to know.
GiGi Marino - FTY, good height, but some elbow bend on entry. 9.75
Jennie Loeb UB - toe on + shap, leg seps, bail, bit short on her handstands, way short on that last hand stand, DLO, hop on landing.
Johnson VT - huge FTY, sticks it. maybe... she didn't control it as well as I like
Kylie Dickson UB - , bail, toe shoot - tkatchev, great height. super full in dismount. sticks it. She will get that diva belt, 9.85
Rachel Dickson got lost in the air and sat down what was supposed to be an FTY 8.85
Kiana Winston UB Bama - toe on + shap + pak, beautiful, good set so far, perfect DLO. Stuck. Alicia is really excited that she's going to get the belt. 9.925
Snead VT - beautiful, HUGE, FTY, big hop on the landing. Two solid rotations for Georgia! 9.85
Mack Brannan is achoring bars, toe 1/2 + jaeger, toe on + bail, toe circle, beautiful DLO, great routine. 9.9
Bars treated Bama better than vault.
Third rotation - Georgia is on floor, Bama is on beam. Hopefully beam goes better this week for Bama than last week.
Scores -
Georgia, 98.200, vault 49.025
Bama, 98.000, bars 49.400
Peyton Ernst leads off beam for Bama - BHS + LOSO, spl + sheep jump, fro aerial, a bit off, round off + 2/1 dismount, solid. YAYAYAYAYAYAYAY! 9.825
Jasmine Arnold leads off floor for Georgia - double pike, chest a bit down, fro aerial, dlb back, bit short, sw ring + sw 1/2 + spl jump to land in splits, 1 1/2 + fro full. Good opening routine. 9.8 tour j
Maddie Desch BB - fro aerial + Beat jump, BHS + LOSO, full turn, sw + spl jump, BHS + BHS + 1 1/2 stuck. 9.875
Vivi Babalis- whip + dbl back, tour jete 1/2 + spl 3/2, double pike.9.825
Arbrecht BB - fro aerial + beat jump, nice scale, BHS + LOSO, spl + beat + sheep, round off + 1 1/2 small hop.
Dickson is on floor for Georgia, I missed her first pass, 1 1/2 + fro lay send, pass, sw side + popa, double back, chest a bit down, but still pretty big air. 9.825
Childers BB - BHS + LOSO, small balance check, spl + sheep, another balance check, fro toss + scale, ro + 2/1 twist. 9.875
Snead FX - whip+ whip + double back, lots of height, fhs + rudi + shushunova, sw + wolf full + popa, lands her double pike short. tried to adjust to avoid going OOB. 9.2
Winston BB - Kiana is smart AND talented. I'm jealous. nice split leap combo, fro aerial + BHS, full turn, ro + DBL back, small hop, but she had a lot of amplitude. A lot of power. 9.9
Sabrina Vega!!!! YAYAYAYAYAYAYAYAYAY! double pike, solid, 1 1/2 + fro lay, sw ring + sw 1/2, tour jete full, clean double back. I love her. 9.8
Nickie Guerrero BB - BHS + LOSO + BHS + LOSO, spl + straddle, full turn, went an extra half because of a balance check. side aerial, round off + 1 1/2, very clean. 9.85
GiGI Marino FX - TEQUILA! double pike, huge air, 1 1/2 + fro lay, tour jete 1/2 + popa, back headspring, lands double back short, she;s on the floor crying... possible injury... oh no... :( It was going so well Georgia! Why do you do this to me? 9.0
I'm sad now. :(
Scores
Bama 147.350, beam 49.350
UGA 146.525, floor 48.450
IT WAS GOING SO WELL FOR GEORGIA AND IT ALL CAME CRASHING DOWN!!!!!!!! HOW CAN WE GO ON?????
Snead is on beam for UGA - BHS + LOSO +BHS, cat leap + sw + back tuck, full turn, fro tuck, balance check, round off + 2/1 dismount, small hop forward. 9.7
Childers FX - full in, chest a bit down, but solid landing. 2/1 twist, tour jete + sw 1/2, fhs + rudi + loso, looked a bit under rotated, but lands it ok. 9.85
Oakley BB - couple of balance checks, spl + spl ring jump, balance check, BHS + LOSO+ LOSO, short and falls, cartwheel to gainer full. 9.175
Desch FX - dbl pike and goes OOB, ,ro 1 1/2 + fro 1/2 + spl jump + fro tuck, sw ring + tour jete 1/2, double back. 9.675
Oh interesting, Sarah Patterson is in the audience and then they cut to Suzanne Yoculan on the floor.
Vaculik BB - Side aerial, falls, :( BHS + LOSO, sw + straddle 1/4, full turn, round off 1 1/2
Mahoney FX - dbl pike, big lunge back, maybe OOB, fhs + fro 1/1 + fro lay, tour jete 1/2 + popa, double back, good ending. 9.8
Babalis BB - fro aerial + LOSO, sw + spl, full turn, pike front toss + beat jump, fro full dismount.
Armbrecht FX - DBL pike, dumb DVR cut me off again, Dammit.
Dickson got a 9.4 on beam
Guerrero FX - bdl pike, big ari, sw side + popa, 1/12 + fro full, rudi. 9.8
Sabrina Vega BB - sissone mount, sw ring balance check, it's contagious! BHS + LOSO, full turn, cat leap + fro aerial, sw + spl jump 1/4, the moonwalk, side aerial + full, good routine. 9.875
Winston FX - double pike, stuck cold, tour jete 1/2, beautiful flexibility, fro lay + fro full, sw ring + sw 1/2, dbl back, huge amplitude, stuck cold. Mic drop. 9.9
Final Scores:
Alabama 196.525, 49.175 floor
Georgia 194.525, beam 48.00
Ok! That's all for me tonight. Not 100% sure what my day will look like tomorrow. For sure I will be back here for Ohio State at Michigan at 4 MST. If I can, I will be online earlier at 2 MST for Nebraska at Penn State.
See you then!