Welcome to Power Rankings! First one of 2018.
This is where I recap the most interesting parts of the week of competition and stack them against each other. This isn't real team rankings. This is ranking the newsworthy and the interesting stuff that goes on during the week.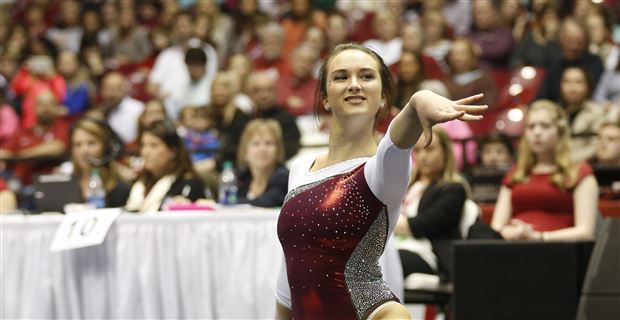 We now have two weeks of NCAA gymnastics under our belts, all the teams have shown up in competition. There was drama, tears laughter, falls and crazy scoring! I'm a total procrastinator, so I missed the first week (sorry). So this is the procrastination edition. Since I put this off for a couple of weeks, this might be short. (sorry)
Let's discuss!
The Alabama/Georgia Meet -
Since Courtney Kupets-Carter announced she had been brought in to be Georgia's new head coach, and oh, by the way, Suzanne Yoculan is coming back as a volunteer assistant, their return has been quite anticipated.
Appropriately, Georgia opened the meet against their once and (possibly) future rival, Alabama. But, it was not smooth, really for either team. It first started with the great vault blunder of 2018. Maddie Desch was up on vault for Alabama, she vaults a Yurchenko full, as was expected. What was not expected, was the judging delay that followed. Just as the Jeopardy theme song was about to commence, we learned that one of the judges didn't see Maddie's vault. Oh. My. God. We learned she'd gone possibly before the green flag went up, hence why the judge missed it. Head coach Dana Duckworth was not having any of it. The camera followed an infuriated Duckworth marching across the competition floor to deal with the vault judges.
— RaganSmithBeadBucket (@raganbeadbucket) January 13, 2018
Ultimately, Maddie was allowed to vault again, but received a 0.5 penalty for vaulting before the flag.
This wasn't the only snafu of the meet. Because injuries...
Poor Lexi Graber landed her vault lock-kneed and had to be taken off the mat. Then on floor for Georgia, poor GiGi Marino landed her double back short. Later, we learned she'd torn her achillies, leaving Georgia with only five athlete line-ups on three out of four events. Which brings me to -
Georgia's rough opening meet - comes back two days later and kills it
Marino's injury was just a tip of the ice-berg for Georgia's day on Friday. While they started off well on bars, they struggled on each of their events going forward, scoring below 49 on each event (except for bars).
Luckily they were able to regroup and come back strong on Monday's meet against Oklahoma, despite only having 5 athletes up on vault, bars and floor.
Routines Worth Watching -
Anna Salamone, Air Force Academy. Bars (Air Force @ Denver)
Anna anchored the Air Force's bar rotation with a gorgeous routine, earning her the highest score for the Air Force of the meet.
January 14, 2018
Kaitlyn Schou, Denver, Beam. (Airforce @ Denver)
Kaitlyn scored a 9.95 with her gorgeous beam, ranking her 5th in the NCAA on beam with a 9.912. Her aerial - back-handspring- layout step out series gives me life.
— Denver Gymnastics (@DU_Gymnastics) January 17, 2018
Sami Durante, LSU, Bars - All the time
Georgia's loss is LSU's gain. Sami's mother is Danna Durante, Georgia's former head coach. She was slated to attend Georgia this year and all that changed when Danna was fired and Courtney Kupets-Carter moved in. Well, D.D. Breaux sensed an opportunity and took it and recruited Sami. This is a huge get for LSU and especially LSU's bars line-ups. Sami's bars are AMAZING!
The Return of Peyton Ernst
After the 2016 season, Peyton Ernst was released from Florida, basically for medical reasons if I recall correctly. She transferred to Alabama, but because of the SEC transfer rules, she had to sit out a season. Peyton made her return to competition on beam at the Alabama/Georgia meet.
LSU vs. Oklahoma watch is on
Oklahoma is the reigning NCAA champion, but LSU is a team that's heavily favored to beat them. They've placed 2nd behind them at the last two Super Six finals. Oklahoma made their season debut at Georgia scoring a 197.550, putting them ahead of LSU for week 3.