NCAA Gymnastics 2018 - Week 1
2 ET/1 CT/12 MT/11 PT Illinois State @ Central Michigan
Scores
4 ET/3 CT/2 MT/2 PT UW – Eau Claire @ Gustavus Adolphus
7:30ET/6:30 CT/5:30 MT/4:30 PT Maryland,

New Hampshire

,Temple & Towson @ Little Boston Invitational
8 ET/7 CT/6 MT/5 PT UW-La Crosse @ Air Force
Live Stream
3 ET/2 CT/1 MT/12 PT NC State & UIC @ Northern Illinois
9 ET/8 CT/7 MT/6 PT Sacramento State, San Jose State, Cal & Stanford @ Nor Cal Classic
Pac12+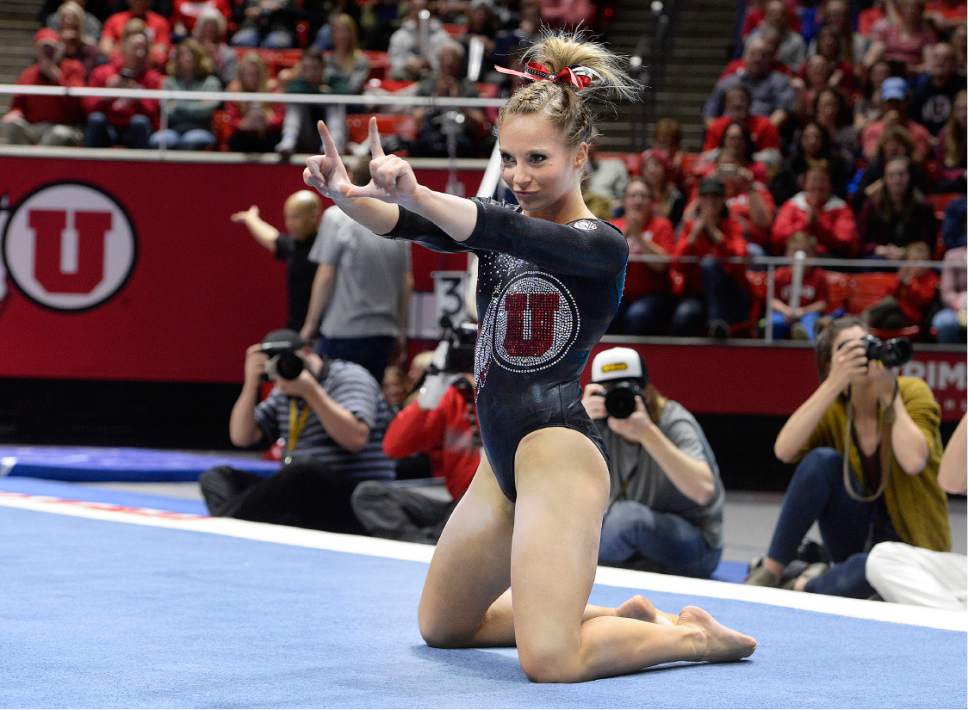 Here are some of the highlights you can look forward to this weekend:
I haven't been keeping up with the blog as much as I should, so forgive me if this writing is... terrible.
Friday is kicked off with Alabama at Michigan. This is a strong match up right off the bat between two top 10 teams.
Michigan lost Nicole Artz and Talia Chiarelli to the inevitability of graduation. However, they gained strong freshmen in Lauren Farley and Sydney Townsend, both former elites. Lauren brings beautiful lines and toepoint ala WOGA and Sydney is a former Canadian national team member. For existing team members, Olivia Karas is always a clutch performer.
Alabama of course is basically a legendary team and they're probably one of my favorite teams. I'm interested to see what Bailie Key will pull off. She's a mystery since we really haven't seen her compete in over two years. In training and Intrasquads, she's shown up on beam and bars. She looked great at the Crimson and White Preview event this December, despite only doing a laid out flyaway off bars.
Kylie Dickson is someone I'm also very interested in. Back in 2015, she and her AOGC (All Olympia Gymnastics) teammate Alaina Kwan made headlines (and infuriated the gymternet) when it was announced they would be competing for Belarus. It was a huge scandal, especially since neither girl had really any ties to the country and never set foot in the country. The whole thing was arranged by then FIG women's technical committee chair, Nellie Kim and their coaches Artur and Galina Akopyan. Kylie and Alaina went to the 2015 World Championships in Glasgow, Scotland (UK) and Kylie went on to compete in Rio. Kylie went back to level 10 (JO) and basically killed it from reports around the gymternet. She competed on bars at the Crimson and White Preview, pretty lines, good amplitude on her release skills.
Florida @ West Virginia
In true Florida fashion, they open their season with the obligatory away meet, starting on that RQS early. This year, they open in Morgantown, West Virginia.
Florida's in a great spot coming into the season since they literally have the same team they did last year. The only senior they lost was Claire Boyce and they lost her mid-way through last season, so they've had enough time to deal with her loss. Plus, they gained a batch of talented freshmen, including Jazzy Foberg, 2014 junior national champion, and Alyssa Baumann, former world champion (team) with gorgeous WOGA lines, is finally there after taking time off to heal from her elbow injury she sustained during the 2016 Olympic Qualification process.
Plus, Meels (Amelia Hundley) can freakin tap dance.
For West Virginia, keep an eye on Zaakira Muhammed.
BYU @ Utah - Much like Florida, Utah will be in a good position with their line-ups going into their home opener agains BYU. Utah has MyKayla Skinner returning and whether you love her or you love to hate her, you can't deny she has been a powerful and dynamic gymnast and she's wildly successful and ridiculously consistent. Kim Tessen is back from her Achillies injury and she can provide that proverbial 10,0 vault.
Arkansas @ LSU
For the first official SEC matchup of 2018, Arkansas is headed down to Baton Rouge to take on LSU.
Arkansas is coming into 2018 with the return of Amanda Wellick, a star all-arounder who missed all of last season after tearing her Achillies.
On the flip side (ha), LSU has lost McKenna Kelly, their star floor performer, so it's going to be interesting to see how they fill that hole and they holes left by the departure of Ashleigh Gnat, Shea Zamardi and Sydney Ewing. Christina Desiderio already looks like she could take over McKenna's spot in the line-ups and deliver some of those big scores.
Of course, I'm going to be looking forward to
Denver with New Hampshire and Rutgers at Arizona
on Saturday. Denver gained a new freshman class with another star JO recruit in Lynzee Brown, who will likely be adding some much needed depth to floor and vault. Emily Glynn was seen in training videos training an open full in as well.*
*Quick schedule update - due to inclement winter weather,
New Hampshire
is instead competing with
Maryland, Temple and Towson at the Little Boston Invitational
and Rutgers is just not competing.
SEMO, George Washington, Ball State @ Kentucky
- Kentucky is a team on the rise as they just barely missed out on a nationals berth last year. They're in a good position having retained a good chunk of their roster and gaining a gaggle of new freshmen eager to make the line ups. Mollie Korth, the freshman phenomena returns and she will be expected to carry on the success she had last season. Of course, there is my favorite fellow ginger, Sidney Dukes, whom I will always mention when Kentucky is competing. George Washington, another team on the rise, has gained some attention in the past couple years as being a dark horse-hipster team that's going to rule the entire kingdom of NCAA gymnastics. Notable names include two senior all-around stand-outs,Jillian Winstanley and Cami Drouin-Allaire.
UCLA opens their season at home again, hosting The Ohio State University
(it's not just Ohio State, it's THE Ohio State. The True Crime Garage Podcast taught me that). UCLA is stacked with a team of former elites and Olympians and they have Queen Christine "Peng-Peng" Lee who is returning for a sixth season.
I'll be live blogging all weekend so come back tomorrow to catch my play by plays. I'll likely be starting with the Florida @ West Virginia meet, because I have to do something called work from 7-4 p.m. (MST). With that said, come back at 5 p.m. MST tonight (Jan. 5) for all the good stuff.
Quick shout out - The Routine Podcast is a podcast all about NCAA gymnastics, with conversations about gymnastics from a mother and daughter (Diana and Chelsea respectively) and the daughter is a former NCAA gymnast herself. Check them out
here
.