2013 is almost over, as of 11:59 p.m. tonight, it will mark the close of another post Olympic year. There were new faces to cheer for, triumphs and tragedies and more.
Here are some of the highlights of the past year:
Athletes...
Simone Biles has a great senior debut. In her first year as a senior, Simone started off by coming in second place at the American Cup. She later followed that up with an all-around title at the City of Jesolo Cup and a national title at the P&G Championships, topping it off with a World all-around medal in
Antwerp
. Simone's infectious smile and happy go lucky attitude makes her so approachable and lovable. And who didn't love her even more when we found out that she
bonded
with her fellow competitors at worlds? She hugged all of her competitors and put smiles on their faces.
Another lovable newbie was
Miss Gymternet prankster
herself, Roxana Popa. Roxana had a great senior debut, gaining attention at
Worlds
and Euros for her fantastic floor work and pretty, clean gymnastics. Later, she won the all-around title at the
Mexican Open
.
Kyla Ross. Once the baby of the team in London. She's all grown up and ready to dominate with beauty. She's so mature and calm, it's easy to forget she's only 17. She acts like a woman twice her age. She showed reliability and consistency once more by taking home three silver medals in Antwerp and bringing home the coveted
Longines Prize for Elegance
with King Kohei Uchimura. Kyla is bringing the beauty to gymnastics.
The Queen of Social Media: The one and only McKayla Maroney. Mac was back in full force in 2013. She came back at the Secret Classic debuting a new floor routine and showing the world once again, that she is the best vaulter in the world. When she wasn't winning
back to back World Championship vault titles
, McKayla was often seen torturing her little brother, Kav on one of her many
Keek videos
, or posting
selfies
. When she wasn't doing that, McKayla was moving in on Hollywood. She wasn't the killer on
Bones
, but perhaps she could be part of the A Team on
Pretty Little Liars
?
The Boys: Sam Mikulak
dancing
. What can I say? He's my official gymternet crush. Let's just say, if I wasn't married or ten years older than him. I'd be all over that. I really think that USA Gymnastics could just use Sam in all of their marketing campaigns.
And whoever said bars was just for girls did not meet Paul Ruggeri. He's been on video doing nearly full bar sets (and by nearly full, I mean they almost meet all the requirements set forth by the FIG code of points). When he debuted a
competition ready bar routine
at the Tournai de Schiltgeim earlier this fall, he's on his way to being able to beat the girls at their own game.
Larisa Iordache may have experienced some disappointments, but this year, Larisa really started to come into her own as a gymnast. She dominated the
field
at the European Championships, brought home countless world cup medals and after disappointments in the all-around and beam finals at the World Championships in Antwerp, she came right back to win a bronze medal on the floor exercise. What's next for Larisa? Maybe a world championship gold on the
beam
?
The beautiful Aliya Mustafina proved again this year, that she is the
queen
. She proved once again she is dominant. Winning the all-around and
uneven bars
titles at the
European Championships
and
University Games
. She dominated again at the World Championships in Antwerp, winning two bronze medals in the
all-around
and uneven bars and winning a surprise gold medal on the
balance beam
.
Mai Murakami of Japan won the heart of the gymternet with just being adorable, that and her fantastic
floor routine
at worlds. Controversially, the bronze medal on the floor went to Larisa Iordache, but many fans wanted Mai to be on the podium.
Vanessa Ferrari could have retired years ago. The fact that she keeps going after all that she has accomplished is commendable. Vanessa still shows everyone she's got it. Winning the silver medal on
floor
at the world championships, winning another
all-around medal
at the Stuttgart World Cup and at the Glasgow World Cup.
Elizabeth "Ebee" Price repeats her win in
Stuttgart
after suffering from injuries earlier this year.
Anna Pavlova switching countries to compete for
Azerbaijan
.
Life Events... Babies... Marriages... Engagements...
Philip Boy surprised everyone when he announced via his Facebook page that he and his girlfriend had welcomed a
baby girl
. Shocking especially since she was already a couple months old when Philip posted her picture.
2013 was an exciting year for King Kohei Uchimura, winning a fourth all around title, a second
Longines Prize for Elegance
and getting married and welcoming a baby girl April 19. All in the same year. No wonder
King Kohei
had a permanent smile on his face.
2008 Olympic Silver medalist, Jonathan Horton and his wife Haley welcomed a baby boy named David into the world on June 24. Jonathan couldn't contain his joy over the
addition
to his family.
After being treated for ovarian cancer, Shannon Miller,
Olympic Gold medalist
, two time world champion, welcomed her second child, a baby girl called
Sterling Diane
, with her husband John Falconetti.
Alicia Sacramone became
engaged
to her longtime boyfriend, Brady Quinn, Seattle Seahawks player. She officially confirmed her engagement on an interview on the Gymcastic podcast.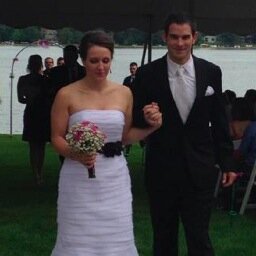 Olympic Gold and Silver medalist, Maria Paseka announced via the internet that she and her (assumed) longtime boyfriend became engaged. Her announcement was a picture of the ring and her
fiancé.
Chellsie Memmel married her long time boyfriend Kory in September. Additionally, Chellsie also made a transition to
power tumbling
after retiring from artistic gymnastics last year. Between wedding planning, appearing on the inaugural Pro Gymnastics Challenge and serving as a brevet judge, 2013 was a busy year for Chellsie.
2003 World Champion Hollie Vise got engaged to her longtime boyfriend Alex Naddour, a member of the 2011 Bronze medal winning mens team in Tokyo. The two met when attending the University of Oklahoma. Hollie recently accepted a position at Arizona State University as an assistant coach. Alex recently represented the USA at the World Championships in Antwerp.
Jordyn Wieber, Nastia Liukin and Bridget Sloan go to college. Jordyn headed to the sunny shores of California to attend
UCLA
, Nastia her inner New Yorker at
NYU
and Bridget kills it for the
University of Florida
.
Retirements...
Alicia Sacramone officially
retired
earlier this year after a career that spanned three olympic cycles.
Tatiana Nabieva
unofficially announced
she was retiring when she cryptically thanked her coaches on Instagram. Surprising since it seemed like she still had more to offer. Especially after her
successes
earlier this year.
Preceding Tatiana, Anna Dementeyva
left the Round Lake
training facility this fall and returned to her hometown of Samara. She left in the midst of drama and tension in the Russian Gymnastics Federation.
The Queen of the Bars, Beth Tweddle, officially
retired
. She's now serving as the FIG athlete representative.
If Beth Tweddle was the Queen of the Bars, then China's He Kexin was the Empress of the Bars. The Olympic Gold and Silver medalist retired after the Chinese National Games. She marked the occasion by bidding
good bye
to her signature event with a kiss.
Injuries...
Ksenia Afanasyeva underwent
ankle surgery
in the fall that forced her to sit out worlds. It was later announced that the surgery was sadly, unsuccessful and she was headed back to the doctors for more surgery.
First year USA gymnastics senior, Madison Kocian looked like she could win the national championship title at the
P&G Championships
in August. On the floor exercise, she over-rotated a triple twist and landed with her ankle twisted underneath her. Later, she
withdrew
from the Worlds selection camp due to her injury.
Fellow first year senior, Lexie Priessman also withdrew from worlds selection camp after she sat out the P&G Championships citing a strained
Achilles
tendon.
Anastasia Grishina's injury sparked a controversy as big as Memmel-Gate. Grishy-gate began with Anastasia withdrawing from the Russian Cup citing back injuries. Head of the Russian Gymnastics Federation, Valentina Rodionenko had a few
choice things to say
about Anastasia, as did
Lidia Ivanova
.
Then, there was Chantysha Netteb who tore her ACL in Antwerp during the event finals.
Canadian gymnast and member of the UCLA Bruins, Peng Peng Lee sadly discovered the surgery she had to repair her ACL last year was unsuccessful and she underwent surgery for the
second time.
Sadly, it means she'll sit out another NCAA season.
American Cup winner, Katelyn Ohashi sat out most of 2013 due to injuries, but that didn't stop the rumors that started to fly around the gymternet. Katelyn set the
record straight
on her Instagram account to put an end to it.
Diana Bulimar- Larisa Iordache's partner in crime was primed to take over the World Championships but i
njured her knee
right before Romanian Nationals and had to sit out Antwerp.
Heartbreaks...
Brenna Dowell and the tale of the
three all-arounders
.
Sandra Izbasa during
event finals in Antwerp
.
Shang Chunsong - nearly the whole
world championships.
Sanne Wevers disastrous worlds
qualifications
.
Yao Jinnan falling on her
Mo Salto during worlds event final
s.
Viktoria Komova's entire
year
.